How TextUs HR uses SMS
Tips to apply to your 2023 HR strategy
Human resource teams are at the forefront of employee relations. Before someone even becomes an employee, HR can be the first impression of a company. Communicating effectively with candidates, new hires, and team members is a big part of success. We talked with Katia Olivera and Emily Wilhelm—two members of our HR team—to ask them for advice on best practices in HR. 
Meet the TextUs HR Team
Katia is an HR Senior Manager. She oversees the HR department including the strategy depending on the needs of the business. Katia provides the roadmap for how we get to where we want to be as a company culture.  Since we are a small team, she also helps with day to day tasks like payroll and benefits. One of our top goals this year is employee relations and enabling managers to grow in their professional development. 
Emily is an HR Coordinator. She handles the recruiting and onboarding of new hires. Emily also manages all of our day-to-day activities to make sure things stay on track. 
What are the top issues facing HR teams right now? 
Katia says being intentional with team members is important now more than ever. We look for ways we can be more personal instead of transactional. Katia says recruiting was a huge need last year and being able to quickly respond to candidates while being personal and thorough throughout the interview process was a top priority. 
Emily says the last few years were about keeping the team together and having them feel a part of the culture. TextUs is a remote team, but other companies may be learning to shift to hybrid or remote which can be a big change. Finding the best ways to get candidates placed during tight turnarounds is a big need right now in HR. Candidates sometimes may not respond to email and then they will respond to a text message. SMS has also been helpful for last minute discussions to make decisions. If you have a candidate that is interviewing at multiple companies, they may ask for a quick decision. Text allows you to group and make a decision and offer in that time-frame without delays. 
How do you use texting for employee communications? 
We are very intentional with our internal communication. We treat all communication as a way to build relationships and offer different avenues for employees to engage with us. Whether it's a few characters in a text message, longer paragraphs for email, or a poll in Slack, we always want to make sure employees get the information they need. One tip we use for intentionality is to have a set cadence of when we communicate so that it is thoughtful and doesn't feel like spam or information bombardment. Emily says that because she and Katia can both see the same inbox and number, they are able to communicate and text, but it's coming from one single source. This means they aren't double messaging people or haphazardly texting when they think of something. 
Because we are a remote team, offsites where we all come together can be a fun time, but also require clear, convenient communication. We send text messages for our offsite gatherings because not everyone puts Slack on their phones so when they're mobile they can still receive the updates on SMS. Katia texts Google Site links and agendas so everyone can see what is planned. We can also send 15 minute reminders for when we are going to lunch or a large group meeting to keep everyone on track. Emily says that since they are a remote team, there can be so much enthusiasm to get together and catch up that it can be easy to lose track of time so text reminders are really useful!
We also use business texting for holiday reminders. SMS is a great additional touchpoint because we are all busy and seeing a text reminder is convenient. Katia thinks it's important to keep texts consistent. So even though it may be a different holiday, they use the same format, because of what holidays could mean for people on a personal level. A good best practice is to be respectful and keep text messages short and sweet. 
Another popular reminder for most HR teams is open enrollment. Employees may not always remember when it's time to enroll, so text messaging is a good gentle reminder for deadlines and to send links. If there are big changes coming, we will send an email with longer content explanations. 
We also like to use text message reminders for volunteer events. Our team loves to give back and sign up for different volunteer opportunities, so texting is a quick way to remind them of the date and any information on where and when to show up. 
Finally, TextUs uses text messaging for parental leave. Because employees are not working while on leave, they may not have their email or Slack on regular work devices. But if HR wants to check in on the employee to see how things are going and understand their plan to return back to work in a more personal and unobtrusive way, text messaging is better.
How do you use text messaging for talent acquisition?
Project managing different stages of the recruiting process, Emily says that text messaging can help set up all stages of the interview processes quickly. As part of the touchpoints in the recruiting process, reminders and additional information shared via text message help candidates know where they stand with a company but also gives candidates a real look into what company culture may be like at TextUs. 
Emily says they share information such as candidate FAQs, links to benefits and the TextUs product, videos, and links to social media— all of these make it easier for candidates to learn about the team and company while being completely transparent. 
Another thing that may come up within talent acquisition is a candidate forgetting about an interview. Using the text message function to reach out to them and see if it's still a good time to connect is an easier way to receive responses instead of a no-show. 
Another tip Emily recommends is looking at the calendar invite to see if a candidate has accepted; If they haven't, she uses it as a good touch point to check in and confirm with a text message. 
How do you use texting to onboard new hires?
Another one of Emily's focus areas is with onboarding new hires. She has discovered a few specific areas where text messaging is a great addition to the process. It's an exciting time when a candidate accepts your offer and you are both eager for them to get started. In this excitement, some things may not stay top of mind and there can be many different documents to keep track of. Emily uses text messaging for reminders to sign an offer letter, benefit windows closing, eligibility for 401k, and W2s. Because companies may have different times when they offer benefit eligibility, setting up reminders for how ever many days or months are required to enroll is helpful to both employees and HR teams. 
And while we also text to confirm each move to the next step in the process, TextUs also uses text messages to welcome new hires to the team. Longer messages or explanations will be sent via email. 
Text Message Recruiting Features  
Three of our communication goals at TextUs are to be transparent, efficient, and intentional. Every employee thinks about these goals while communicating and interacting with each other. We treat our candidates the same throughout the entire recruiting and onboarding process. 
Knowing these goals, Katia believes that one of the best pieces of advice to give HR professionals is to think through your audience and tailor messages to and for them. That means to also give them the resources in the way they want them and will use them. In that same manner, Emily's last tip is to have one cohesive brand message instead of backpedaling to bombard candidates if you forgot something. Make the most of why you're reaching out. 
With these tips in mind, we asked Emily and Katia which TextUs features are their favorite. Emily loves to use the templates. It's easy for her to edit them and then share with Katia so they are both sending consistent messaging for all candidates. It also eliminates the extra work or errors when you copy/paste. 
Katia likes using the campaign feature. It's easy to use — especially for our offsites. Because she's not as involved in the day-to-day as much, she also uses the search feature to navigate quickly through texts when she does need to refer back to something. 
If you want more HR tips and resources, download our free HR texting playbook. You'll get access to easy to implement text messages to start sending today!
Katia Olivera is a Sr. HR Manager at TextUs. She specializes in all things HR ranging from employee relations, recruiting, payroll, and more.
Emily Wilhelm is an HR Coordinator at TextUs. She specializes in onboarding, recruiting, planning, and more.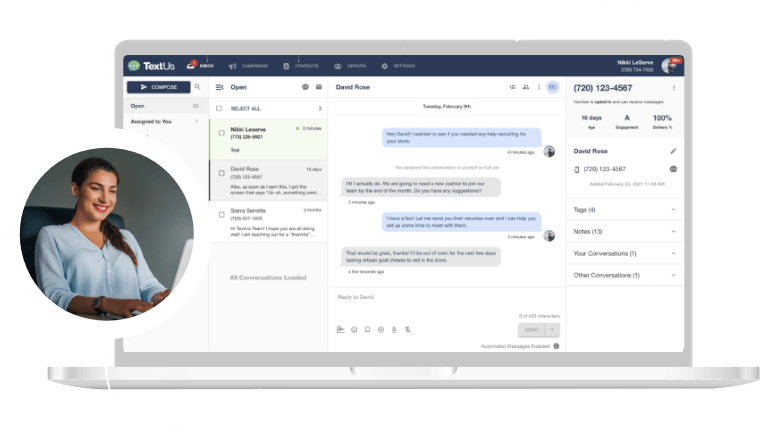 Get a TextUs Demo
Learn how thousands of businesses use TextUs everyday to communicate in real-time.