How to Choose a Texting Platform: 3 Questions for HR Leaders
HR leaders are rapidly embracing digital transformation. Ensuring that recruitment, onboarding, and employee communications run smoothly can be tricky – especially when facing pandemics or another crisis.
HR keeps the company on track not only with hiring but also the company culture. As employees join "The Great Reshuffle" and look for new opportunities, HR leaders are focusing on creative solutions to attract and retain staff.
The future of work now includes figuring out how to keep company morale up, hiring and training when workers are changing jobs quickly, communicating with a hybrid or remote workforce, and convincing staff to return back to the office after working from home.
As work becomes asynchronous and more flexible to meet employee needs, texting is one solution that meets the desired flexibility of workers.
Texts have a 98% read rate and 40% response rate, proving more effective than email or phone. But how do you know which platform is right for you and your team?
Working with Human Resource leaders to implement SMS, we have found these questions can help you find the right texting platform for your HR team.
Will this integrate with my ATS?

One of the most important questions to ask is how your SMS platform will integrate with your current ATS. Keeping track of your applicants and candidates can be a nuanced process.

Your texting solution should enhance your communications and sync with other software so that you don't have to duplicate efforts.

Make sure that you can easily schedule interviews and follow up with candidates all in one place so that every member of your team will know exactly where a candidate is in the process in real-time.

Candidates prefer the convenience of texting because they can easily give quick answers.

This preference means that reminder texts have a greater chance of being seen and responded to – ensuring candidates show up for interviews and you and your team don't waste time waiting for them.

Will this improve my training or onboarding process?

Making a good first impression can make a difference with your new hires.

As employees become more particular about their work culture, setting the right tone from the beginning will go a long way in welcoming staff and showcasing the work environment.

Your SMS platform should let you onboard smarter and more efficiently. The best way to make sure this happens is to see that the user experience (UX) and user interface (UI) are friendly and familiar to you so that you can easily use and adopt across your team.

Check to see if you can create new hire SMS campaigns in order to send training paperwork so no steps are missed and let employees adapt to the company culture starting on day one.

Will it let me send company wide announcements?

Once you successfully recruit and onboard your candidates, you want them to remain happy as employees. The technology you implement should increase the overall employee experience.

If you need to quickly get out a message about holidays, office announcements, or reminders, you want to easily achieve that without extra effort or hassle.

See if the SMS solution offers templates for company approved messaging that you can schedule and send to employees. This will help your team be effective without added stress and also get the same message out to all employees at the same time.
As you prepare and plan your workforce during labor shortages while employees are looking for work life balance, asking the above questions will let you choose an SMS solution that strengthens your relationships with candidates and employees.


TextUs has integrations with Workday® and Greenhouse to make texting even easier for HR leaders. These integrations enable teams to send and receive real-time, two-way text messages without switching between platforms. Our customers have used this to increase engagement with candidates and employees.
If you'd like to learn more about TextUs, see all platform features.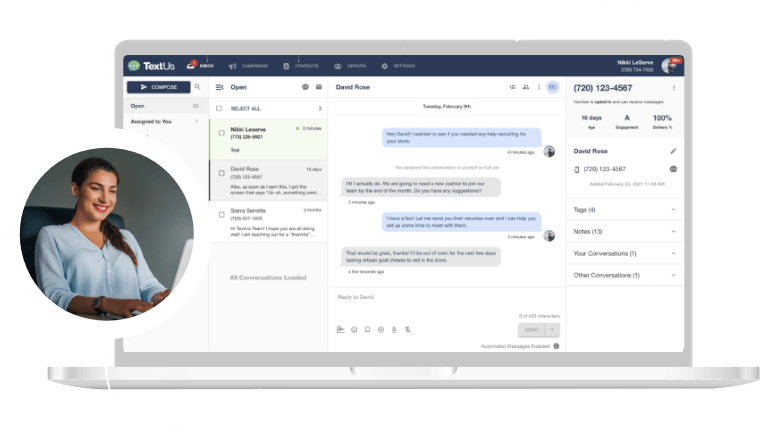 Get a TextUs Demo
Learn how thousands of businesses use TextUs everyday to communicate in real-time.