TextUs Product Launch: Keywords
With our newest product launch of Keywords, your organization can drive efficiency and engagement at scale by automating text responses using SMS keywords. Keywords also provides an easy way to simplify opt-ins and grow your contact list so you can get more from your SMS marketing. And by creating contact groups from keyword responses, you can easily retarget engaged contacts with relevant campaigns to maximize results.
So, what are SMS Keywords? SMS keywords are words that can be texted to your number to trigger automated responses. With their simplicity in mind, they have helped companies scale their efforts to grow their contact lists and engage customers or prospects. Keywords are a consistent, easy way that contacts can show interest, and allow you to target those contacts with relevant content. 
Keywords Features
Unlimited SMS Keywords.

Create an unlimited number of keyword triggers and paired auto responses to be used in a variety of ways across your messaging accounts.

Customizable Automated Responses.

Create more engaging auto responses using texting templates, rich media such as images, and more.

Keyword-Driven Contact Groups.

When a person texts in a keyword, they will be automatically added to a contact group that can be used for future campaigns.
What are some of the ways I can use Keywords?
You can use Keywords to increase your team's efficiency by creating auto responses for common questions and to boost the power of your SMS marketing. Here are some examples below.
How do I get TextUs Keywords?
Keywords is a premium feature. If you are a current TextUs customer and want to discuss upgrade options, please contact your account manager or get a Keywords demo here.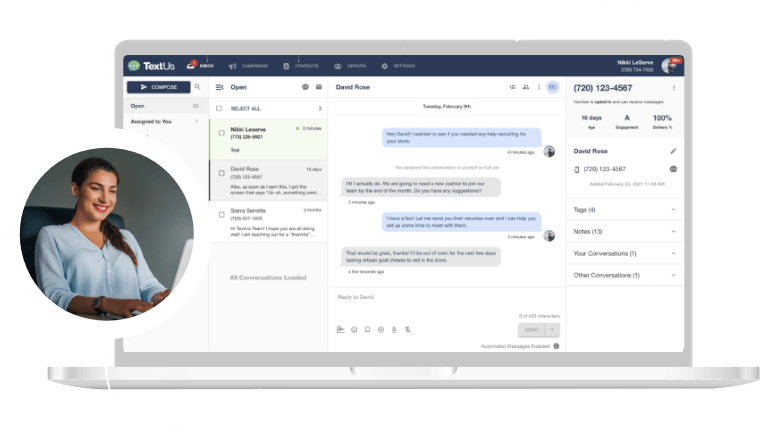 Get a TextUs Demo
Learn how thousands of businesses use TextUs everyday to communicate in real-time.