You can text 'em all but do they text you back?
When you are looking for a business texting platform, are you searching for ways to text them all, or are you looking for a platform that will get people to text you back?
Sometimes sending the same type of message to everyone doesn't help you improve engagement and responses — in return — you're not helping your business.
If someone doesn't respond to a personal text message, you may not have dinner plans for the night, but if a business contact doesn't text you back, you may not have a business.
How do you look for the right text message platform for your business? Ask yourself and your executive team what the goal of your communication plan is to help determine if Text-Em-All or TextUs is better for your business.
How is SMS deliverability and quality?
You may be able to text 'em all, but can you be sure you are delivering to 'em all? The quality of your text message planning makes a difference in not only response rate but deliverability rates as well.
Does the text message platform allow for contact segmentation and audience targeting so that you can create campaigns that convert? Contact segmentation in the forms of tags, keywords groups, and advanced search produce targeted campaigns. Part of segmentation means having no limits to how many text messages or campaigns you can run.
Enterprise companies may have more planned campaigns and contacts to reach at once. You may also need to balance your automation and include things like recurring campaigns or sequences so that you relive the manual tasks of employees.
Think of your SMS platform as looking for an airline. Some airlines might offer more simplicity to meet certain traveler's needs and budgets — but airlines can start to "nickel and dime" you to the point where it adds up and ruins the experience and price tag for some travelers. Choose an SMS platform that will meet your business and customer needs.
SMS marketing is still a part of the marketing strategy. You should be able to treat a text message campaign the same you would an email campaign or other marketing campaign. This includes things like being able to A/B test your messages so you know which text messages are delivering you the most return on your investment.
Robust reporting also lets you measure your campaigns more effectively to gather insights based on usage, contact engagement, and message deliverability. Limited reporting could mean that you have less engagement measures and campaign metrics to make informed decisions and know how deliverable your text 'em all campaign is going.
Another factor that impacts quality text messages is link usage. If you include email marketing in your multi-channel marketing plan, then you know that including anchor links is a must. If you are writing quality content on a website or blog, you also know that links are key to building SEO. SMS marketing is a little bit different in that sending links may increase chances of getting marked as spam, blocked by mobile carriers, or being too long to put in character limits.
Link shorteners are one solution people take to send SMS marketing messages, but there are reports of lower deliverability because of it. Having branded links offered directing from your text message platform creates brand trust and credibility that you should be looking for in all of your marketing efforts. You also want to make sure that you can track your links and see which ones are producing the most click throughs and conversions with users.
How is the UX of the SMS platform?
If you want to be able to say "text us back", having ease of use and an intuitive UI that streamlines user workflows is a must. Look for UX features of the text message platform that allow for users to easily use and adopt across the organization. Functionality such as easier inbox management and workflows for sending mass messages and campaigns as well as viewing campaign responses and tracking the analytics will provide enterprise companies with a better understanding of how marketing efforts are progressing. TextUs delivers more functionality and advanced campaign features to make it easier for all users to achieve success.
Does the text message platform offer SMS and MMS including the ability to send PDFs and other rich media formats — not just images? Research shows that rich media can see a 10% increase in the likelihood of getting a response as well as a 22% lower opt-out rate. If you're an enterprise company, you may need to send documents, maps, calendar invites, and videos to various contact groups. And no matter your company size, you want to keep as many contacts as engaged and prevent opt-outs as much as possible.
A good product will have higher adoption and usage. TextUs users love us! G2 rated us as a leading conversational texting platform for mid-market and enterprise companies. We are a feature rich company supporting high functionality, but we also execute at a high level and are relational.
Does the SMS platform have integrations?
One of the greatest benefits to text messaging for business is that no matter where your customers, prospects, or employees are, they can still respond to you in a way that is convenient for them. If you have employees at their desk, a desktop app may work best for them. If your team works in CRMs, having an integration or widget that connects and syncs all of your information to one system of record without toggling tabs is a huge benefit.
And, if you have people on-the-go, having a native mobile app that is easy to use but still has proper functionality will be the best way to text.
Integrations become increasingly important if you are an enterprise company. You can't text 'em all effectively if you are piecemealing and recreating the wheel each time. In a small business, it might be easy to casually ask the person sitting next to you "did you talk to Sam, today?" but at an enterprise company this is near impossible. Having a variety of CRM and ATS integrations available means that you will be able to have access to all communication and touchpoints in real-time no matter where you are.
TextUs offers integrations for sales and marketing CRMs with Salesforce, Microsoft Dynamics, and HubSpot (coming soon) and for recruiting ATS with Workday, Symplr, JobAdder, as well as a much more robust integration with Bullhorn ATS.
One final thing to consider is if the text message platform offers support for single sign-on (SSO). TextUs supports SSO with Google, Okta, Azure. This makes it easy for users to sign into various platforms in a secure and convenient way.
Having integrations and extensions between your CRM/ATS/SMS platforms allows you to work at higher capacity for user management. No need to toggle back and forth or stop what you are doing to log into another platform. TextUs also offers a RESTful API that allows companies to integrate TextUs messages and contacts with its CRM or any other tool.
Your communication strategy and SMS platform needs will be driven in part by your company size. If you only need a single phone number and do not plan on having many contacts or sending many text messages, a pay-as-you-go or monthly plan may make sense for you. If you are mid-market to enterprise and have a variety of departments internally, an active sales and marketing team, and have customers in different verticals, you may require more intentionality and features with your text message platform.
Features that are limited with Text-Em-All
Text-Em-All either has limited functionality or no features supporting the following: 
Chrome Extension
Text quality indicator
Contact segmentation
Send PDFs
A/B testing
Link shortening
Link click tracking
Automated sequences
SSO support
TextUs vs. Text-Em-All Feature Comparison
| | | |
| --- | --- | --- |
| | | |
| Platform Products | | |
| Web app | | |
| Mobile app | | |
| Chrome extension | | |
| User Features | | |
| 1:1 messaging | | |
| Mass texting | | |
| Scheduled messages | | |
| Templates | | |
| Message personalization | | |
| Opt-in/Opt-out status | | |
| Contact import | | |
| Auto responses | | |
| Text quality indicator | | |
| Contact segmentation | | Limited |
| Add attachments  | | Limited |
| Campaigns | | |
| A/B testing tools  | | |
| Link shortening | | |
| Link click tracking | | |
| Keywords | | |
| Automated sequences | Coming soon | Limited |
| Admin Features | | |
| Analytics | | |
| SSO Support | | |
| SMS API | | |
| CRM / ATS integrations | | |
| 10DLC registration  | | |
| Customer Resources | | |
| Onboarding assistance | | |
| Technical support | | |
| Help center | | |
If you want to take your enterprise company to the next level and enhance your communication strategy with candidates, customers, and employees, contact us today!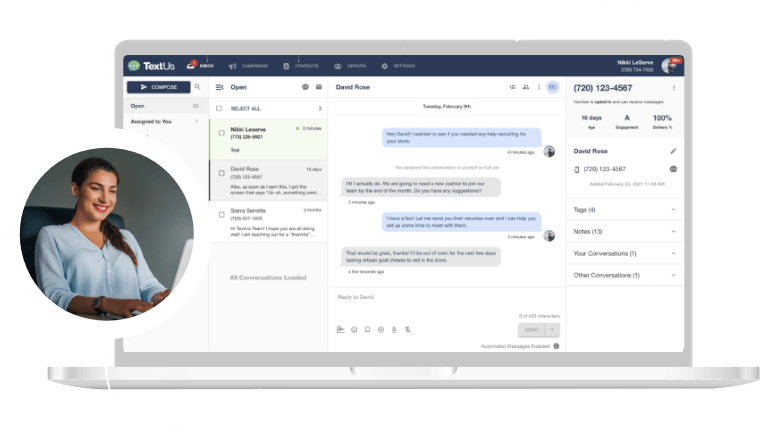 Get a TextUs Demo
Learn how thousands of businesses use TextUs everyday to communicate in real-time.