4 Strategies for Sales Success in 2022
New year, new quota, same leads from 2021? As a sales rep, are you looking over your pipeline trying to see where or how prospects went cold? A common complaint many reps have is trying to move a deal forward when a prospect goes silent letting emails and phone calls go unanswered. How can you focus on keeping the pipeline flowing and closing deals in a timely manner this year?
Speed to lead
All reps want to shorten their sales cycle, but industries determine what "short" means. If you work in B2C or DTC sales,  you may already have a shorter sales cycle that can see immediate ROI. If you work in enterprise tech like we do, your sales cycle may be longer.  Our sales and marketing teams work closely together to understand the buyer journey and funnel to adequately plan lead generation and management.
Responding to a lead quickly is important in sales. The more you understand your buyer's journey and book meetings quicker, the greater your deal velocity will be.  Not only do you need to respond quickly to a lead, but how you continue to engage with them throughout the sales process will determine your success. If you have too many gaps or delays anywhere in the journey, you may lose a prospect and never recover them.
How do you find a sales breakthrough?
What are some of the current realities facing sales and impacting conversions? Benchmark International posted the top sales trends for 2022.
Here are 4 trends TextUs has seen with our own data and experience.
Personalized customer experience

With increased competition and longer sales cycles, customers are in more control of what they want and how they want it. One trend that continues is the need for personalization.  We have seen from our own TextUs data with customers that when they use personalized and conversational text, they have a higher engagement rate than when they send generic or automatic messages.

"When customers feel more engaged on your website or app, they are more likely to do business with you. As long as you can offer them convenience, speed, helpfulness, and friendly service, getting personal can take you a long way."

– BENCHMARK INTERNATIONAL

Texting with prospects and customers will allow your sales and CX teams to provide convenient communications when it's a good time for your prospects and customers.  You can communicate and personalize your messages without sacrificing speed and efficiency.

CRM syncing

Many companies use CRM systems to manage their sales process. Did you know that according to the Benchmark International data, 65% of sales reps using mobile CRM have a higher chance of meeting their quotas?

We are living in a mobile world where prospects and customers not only want personalization but are making decisions on the go. Knowing that mobile increases sales productivity doesn't come as a shock to us.  Last year, TextUs launched an improved mobile app.  Through our UX process, we discovered that users wanted a lighter app for their phones that could accomplish communicating with their customers and prospects.

We also know the power of integration in helping our customers achieve success.  Our Salesforce integration allows customers to easily see the full picture of their buyer's journey and know where each prospect or customer is in the process.  You can send and receive text messages within your Salesforce app or window without disrupting your workflow.

Continuous intelligence on buyers in real time

Gartner predicts that by 2025 80% of B2B sales interactions will occur in digital channels. Similar to mobile CRM increasing deals, this digital transformation in sales will allow reps to shorten their sales cycle by reaching prospects where they are and how they want to be connected.

Gartner also believes that understanding the buyers process in real-time will be key in sales analytics and performance.  We have seen at TextUs that real-time makes the difference in obtaining a full picture view of customers and prospects.  Responding and viewing conversations in real-time mitigates the chance of gaps or delays in your sales process.

Our Salesforce integration lets you see analytics in real-time giving you a complete report on how your prospects and customers are engaging with your communications on all channels. When you have analytics to parallel your buyer's journey, you will be able to adjust your sales strategy to effectively reach and engage your prospects.

Know how to target millennials and GenZ

These younger generations are changing the way communication needs to happen.  Whether you are targeting GenZ for a consumer product or a millennial employee in B2B sales, understanding their communication preference will help speed up your sales process and likelihood of closing.

Younger generations not only prefer to communicate in a convenient fashion, but they expect it and are turned away from other tactics.

Some interesting stats about younger generations:
88% of millennials prefer texting.
52% of millennials say they feel anxious taking a phone call, versus only 23% of boomers.
50% of millennials have asked their parents to call and make an appointment for them.
60% of GenZers and millennials say they hate calling people.
If you find that your calls are going unanswered and emails ignored, try texting your prospects to include more personalization in real-time without sacrificing your analytics in your CRM. Eliminate barriers and gaps in your sales approach so that you are more authentic and personal. Texting as a sales tactic can help you respond quicker, book faster, engage better, and close more.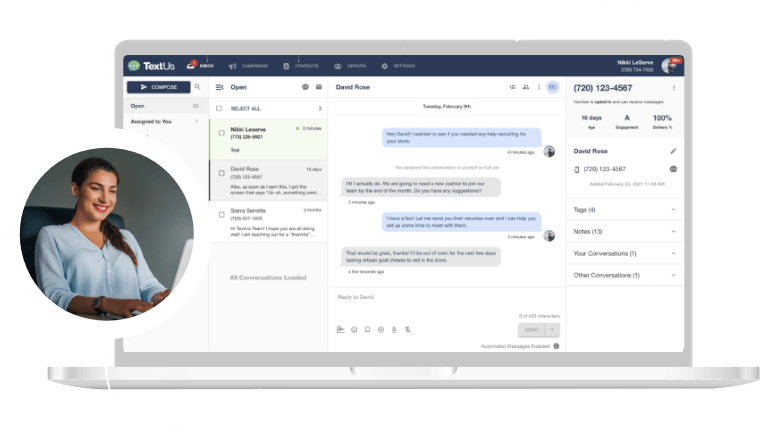 Get a TextUs Demo
Learn how thousands of businesses use TextUs everyday to communicate in real-time.