Is the Real Estate Market Cooling?
The real estate market boomed in 2021. Following a freeze in the industry, every facet of the industry from commercial and residential to lending and financing saw a rebuild and rush to market. Low interest rates drove up competition and properties left the market rapidly so bidding wars ensued. 2021 was a sellers market. But what about 2022?
Economists and real estate professionals shared with MarketWatch their top predictions for the market this year.
1. Mortgage rates will rise
Mortgage rates were one of the top qualifiers for the crowds going to buy homes – particularly among first-time home buyers who were millennials.  The Mortgage Bankers Association predicts that rates may rise up to 4.5% by the end of the year. Knowing that this rate rise may slow the rush of buyers, communication will be essential.
Resource: Keep communication clear and open with current prospects or buyers. If you are an agent, keep in steady contact with hot prospects to let them know where rates are. If you are a lender, be prepared to discuss the rate change with potential buyers. Texting is a great communication tool to reach out to buyers on their time.
2. Competition will decrease
Similar to low interest rates increasing competition in 2021, the rise of rates will likely slow the competition in the market. While the market will not come to a complete halt as it did in 2020, it may not be as intense competitively as in 2021. The summer is still expected to be a typically hot market but may fade come later in the year according to experts.
Resource: Gather your properties ahead of summer and make sure you put them in front of your prospects ASAP. You will want to take advantage of moving the process as quickly as possible before potential buyers back out as prices and interest rates rise. Texting is one capability that advances that process. You can easily promote, schedule appointments and tours, and sign paperwork all via text.
3. Home price appreciation will slow
Higher interest rates may mean that buyers will be forced to look at lower-priced homes in order to afford the monthly payments. Overall, most experts believe that prices will continue to climb throughout 2022 and stabilize in 2023. You will want to find a solution that efficiently lets you inform prospective buyers about the market and availability.
Resource: Consider creating campaigns and segmenting your contacts by their income levels and where they are in the buying process. For contacts who may have a hard line of what they can afford, they may want to move faster before home prices grow out of their range.
4. Pricier homes will be easier to get
More expensive homes are sitting on the market longer. Homes valued at $500,000 and less have increased competition and tend to move faster. This price threshold will skew targeting homes and fluctuations in how quickly certain homes will close.
Resource: Segment your contact lists by home price. Consider the spacing of text communication more frequently for contacts looking for homes under $500,000 knowing they will need to act and respond faster.  Communication to buyers looking for a higher priced home may have more time to consider their options. As the divide between easy and harder to sell properties, you may want to create a referral program via text building your contact list for the ebb and flow of the market.
5. Foreclosures will increase
As mortgage forbearance programs disappear, some people may not be able to afford their monthly payments. Paired with labor shortages, if a homeowner finds themselves unemployed, foreclosure may be an end result. Returning to the office may also open up more commercial property opportunities.
Resource: Be prepared to market and sell foreclosures. If you know of prospects who are open to foreclosures, create target campaigns for that list and communicate as properties come up. You can easily remind contacts of matching properties without spending all day on the phone. If you are a mortgage lender, consider adding texting as another method for reminders of past due payments and next steps.
Don't let your prospects go cold! By staying in communication with potential buyers, you can help them navigate the home buying process easily and on their time.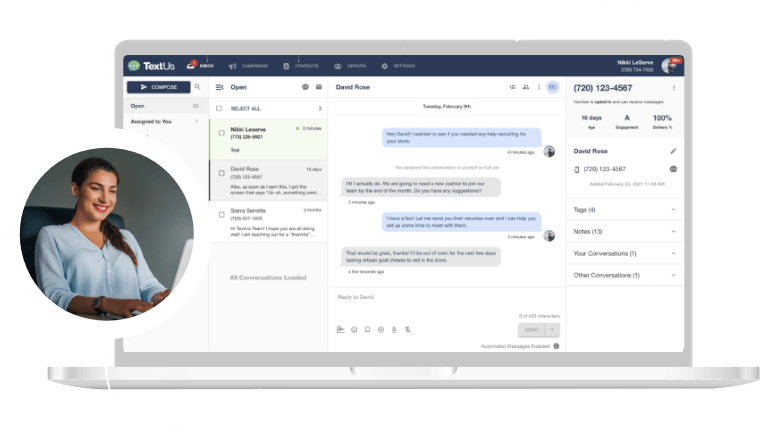 Get a TextUs Demo
Learn how thousands of businesses use TextUs everyday to communicate in real-time.