Using SMS Campaigns to Reach Larger Audiences
We've heard time and time again that the TextUs campaign feature is a vital component of our customers' communication efforts.  Sending a personalized message to multiple recipients is a great way to quickly get important messages delivered in real-time.
Traditional methods of communication, like phone or email, often lack in generating the engagement needed to ensure your message is received.  Only 20% of people will answer phone calls they don't expect.  This often creates lag time in message delivery and can result in long games of phone tag. Text messages, on the other hand, are read within 5 seconds on average.
SMS campaigns provide a highly viable way to engage with many recipients, allowing senders to easily manage all conversations in real-time.
In this version of TextUs Tips, we outline a few quick ways you can lean on campaigns to enhance overall productivity in your day to day workflows.  Whether you're in corporate HR, healthcare, real estate, staffing, talent acquisition, workforce management, or a host of other verticals, texting has shown drastic improvements in overall workforce productivity, meaning a positive, more profitable impact on your bottom line.
5 Ways to Utilize SMS Campaigns in Your Business Workflows:
Fill Contract Positions
Looking to quickly fill one or many contract roles?  Send a quick text campaign to get the message out fast and initiate responses in real-time.
Sending Surveys
Gain quick and actionable feedback from employees, customers, clients and candidates by sending surveys right to their phones
Reminders
Remind employees about an upcoming training or send a campaign to follow up on that survey link. Quick SMS reminders will ensure outstanding items are taken care of.
Invitations
Send an invite to a list of contacts for things such as job fairs, new employee orientation, corporate events, webinars, networking happy hours and more.Text provides an easy, fast way to get the word out about all of your events, ensuring your invitation is seen.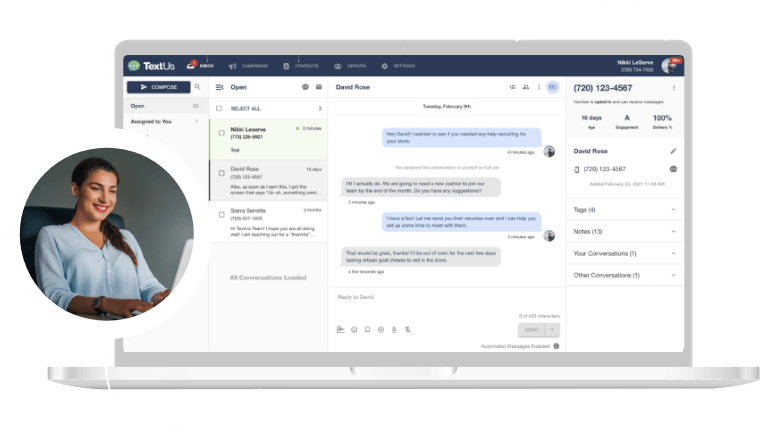 Get a TextUs Demo
Learn how thousands of businesses use TextUs everyday to communicate in real-time.