6 ways to use business bulk text messaging
When you hear the term "bulk SMS" you may be thinking about sending text message campaigns. While that is a strong way to use a bulk SMS service provider, bulk text messaging simply sends the same text message to many contacts at once. It's a way to simplify sending business communication for you and your contacts with one send. 
Business bulk text messaging is a top tool for transactional messages such as growing your SMS contact list with opt-in messages, sending out important alerts such as office or retail closures, quickly getting out emergency messages, or sharing information that would be useful to all contacts without segmentation.
Why you should use business bulk text messaging 
With bulk SMS for business, you can reach thousands of contacts and your outreach can be as targeted and personalized as individual text messages. You can use a bulk SMS service to reach your entire contact list but they'll feel like they are getting a message meant just for them. It's also spam-free with high deliverability and response rates. Bulk texting done right is personal and increases engagement.
Some of the significant benefits to business bulk text messaging include: 
Brand recognition 
Having a number dedicated to your business communication that customers, prospects, and employees recognize lets them know it's a safe number and lets them engage in wanted communication. As you send promotional messages, updates, or regular touch-points with contacts, they will know your brand and see the whole history between you and them. 
Unifying teams 
With bulk text messaging, you may be reaching many contacts at once, but your whole team can share the inbox and see the messages and communication. This means that no gaps will exist between employees and the user experience will be better for your contacts. 
Share content  
Business bulk text messaging is small (in character length) but mighty in valuable content. Bulk SMS is an outstanding way to make sure that useful content reaches as much of your audience as possible. Sharing content like photos, documents (PDFs), videos, GIFs, and links is a great way to increase your engagement with contacts. Bulk SMS lets you share and save rich media without sending the same message over and over again. 
Multiple touchpoints 
Personalized announcements sent from bulk text messaging software can be an easy, unobtrusive way to get a conversation going with thousands of contacts. With an average of 98% read rates for text messages, these simple touch-points are an effective way to ignite conversations with your entire list of contacts, all in one go, with a bulk SMS service. 
Send reminders
When you have a large event coming up such as a webinar, group demo, or trade show, bulk text messaging is a leading way to remind people to attend and coordinate your event seamlessly. People are busy and may need the additional reminder. A bulk SMS provider can provide you with a better way to send calendar reminders for events or for deadlines about employee benefits. 
Informed analytics 
When you send personal text messages, you may not be keeping track of how often or when someone responds, but business bulk text messaging should be informing your decision making! Understanding the types of messages that are resonating and which audiences are responding and at what times will let you send out more bulk text messages that help your company's bottom line.
How to choose a bulk SMS provider
Bulk SMS for business is a common way for enterprises to reach customers, employees, candidates, and prospects. A bulk SMS service can provide you with easy contact communication, but to elevate your communication strategy — like with any marketing tactic — you will want to segment your messages to the right audience and monitor which type of content and messages you are sending. When you choose a bulk SMS service provider, make sure that campaigns are a part of the platform, so that you can make the most of your bulk text messaging. 
In addition to campaigns, when evaluating a bulk SMS service provider, look for these features to take your text messaging to the next level. 
Texting templates: Remove the guesswork with text message templates that streamline your conversations. You can share with your whole team for uniformity or create different ones based on who you are texting. Your bulk business text messaging should show your brand personality and yours!
Scheduled messages: Choose a bulk SMS provider that lets you schedule when to send your bulk SMS. Enterprise companies work in different timezones (or different continents) and have employees working various shifts. By creating business bulk text messaging when it's convenient for you as well as when a contact wants to receive it, you provide a better experience for both sides! 
Mobile app: This may seem obvious since you are used to personally texting from your phone! But with business bulk text messaging, people work at desks and use a platform from their computers. But as employees are on-the-go, a responsive and native mobile app allows all users to be productive, and not just the ones at their desks! 
Typing indicators: Avoid stepping on each other's toes: know when other users are typing in the same conversation. This avoids that awkward "got it" message to let your team know who is responding and responsible for the contact. 
Unlimited campaign sizes: This is one of the biggest differentiators with a bulk SMS service. Some platforms limit contact sizes. Others may limit campaign sends (both how many campaigns you can send and how many contacts can be included in the campaign). Make sure you know how many contacts and campaigns you think you will need to be successful before picking a bulk SMS service provider.
Custom keywords: Use automation with keywords to send out in bulk SMS. This includes growing your subscriber list as well as answering common questions with bulk stock answers. Never miss a beat or delay customer happiness by automating responses (and you'll save time from having to stop what you are doing to answer a common question!). 
Opt-out management: The business bulk text messaging industry has regulations in place to keep it spam-free, but you probably don't want to manage that on your own. Get full transparency into your opt-outs and stay compliant with a bulk SMS service provider who can manage that for you. 
Integrations: As an enterprise company, you are probably already using other tech stacks to manage your business. Choose a platform that automatically logs messages back to your ATS/CRM so you never have to worry about finding text history with your bulk text messaging. 
The most important thing to consider when looking to implement bulk SMS is why you want to send mass messages out to your contacts. What type of content, how often, and how many contacts will you need to reach? Once you can answer these questions, look for a bulk SMS provider that offers features and support to meet your business goals. Happy bulk text messaging!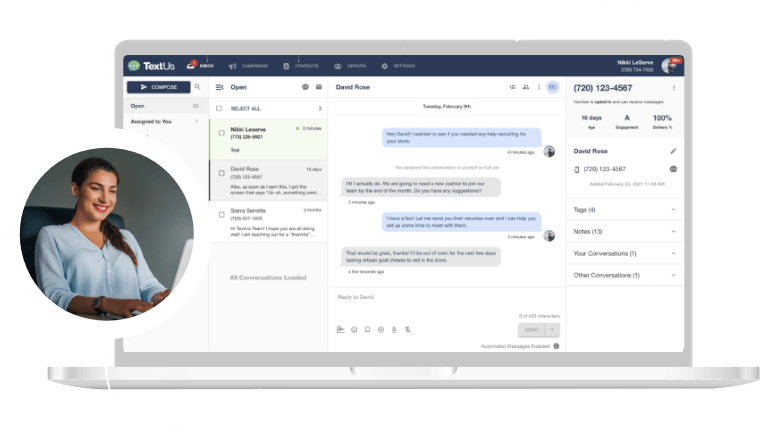 Get a TextUs Demo
Learn how thousands of businesses use TextUs everyday to communicate in real-time.