The Best UX Includes Real-Time
Turns out patience is not a virtue — at least when it comes to UX. People do not like to wait. If they can find a faster and more efficient way of getting what they want, they'll find it. Think about the transformation of ridesharing services like Uber and Lyft — you can follow the route and find out the exact minute your ride will arrive. Waiting for a package? You can receive notifications for where it is en route and when it has been delivered. Customers have come to expect these features and conveniences.
Speed matters in UX
If customers have come to expect notifications and instant access, what does this mean for how web and mobile apps are designed?
A post in UXPlanet explains:
"10 seconds is the limit for the user's attention. For delays of more than 10 seconds, users will want to perform other tasks while waiting for the computer to finish. A 10-second delay in the web without any feedback will often make visitors leave a site immediately."
If users are leaving websites that aren't responsive, what will happen if your business communications tools are not responsive?
Understanding the customer and putting them first is a key priority for TextUs and the core for our user experience. Speed continues to be one of the most important features for our customers. How quickly and easily someone can text is only part of the equation. The other part is how quickly someone responds.
Maximizing text engagement means minimizing response time
Texting is a near real-time communications medium. That's part of the allure and key to understanding interest. Our own personal experiences tell us that the most engaging text conversations are where you and the other party are responding within seconds of each other. If you send a text and someone doesn't respond in a few seconds, your attention moves to something else. Similar to an app or website not responding and you go elsewhere.
The same is true of businesses texting with their customers. On average, people will respond to a text within 90 seconds of receiving it. By comparison, it may be 90 minutes or more before an email gets a response. Engagement hinges on quick response time, and the more engaged customers, candidates, and employees are with your business, the more productive you'll be.
Real-time text messaging provides the same convenience as knowing how quickly your package will arrive. For example, TextUs has customers who are healthcare recruiters. Typical time constraints around business hours don't exist in their field. The ability to text in real-time after normal hours is a benefit for their candidates. The alternative of waiting until the next morning and having a lapse in communication risks a candidate will be placed elsewhere. Time is truly of the essence.
4 factors that contribute to real-time success
Given the importance of near real-time response to the overall effectiveness of texting communications, the following factors are critical when considering a business texting solution.
Native mobile app

Is there a phone app that provides real-time notifications of inbound messages and allows users to quickly respond to any message when they're on the go? This feature is familiar to personal texting that people are used to on their smartphones.

Web app

Is there a web app that offers real-time notifications so that you know immediately when a message comes in and can respond even if you're using some other application that may mask the inbound text?

Chrome extension

Is there an extension (especially the slide-out variety) that allows you to engage in a conversation in one click even while you're working in another application like a CRM system?

Automation

Does the texting platform provide campaigns or automation? One thing to consider with these workflows is how easily responses can happen. Does the platform allow users to either program a response for any recipient that engages or provide a "hot" transfer to a live user that can respond in real-time?
Notifications and the capability to respond as soon as possible will give your users the best experience and keep them engaged. Forget about them or take too long to respond, and you may find that they will look elsewhere.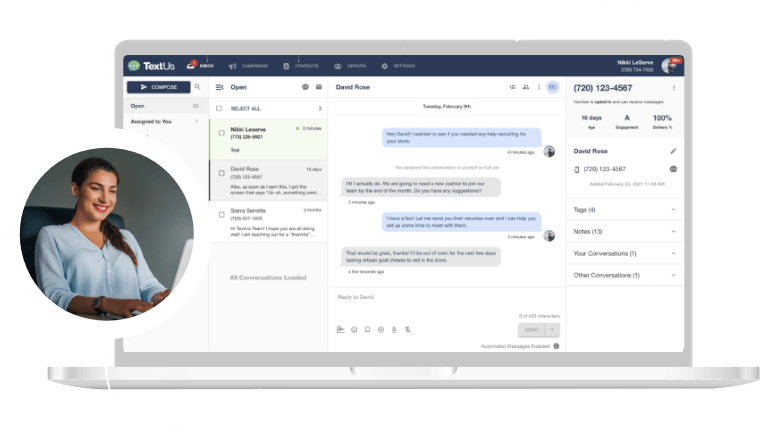 Get a TextUs Demo
Learn how thousands of businesses use TextUs everyday to communicate in real-time.