Know the Difference: Short Codes vs Long codes vs Toll-free Numbers
Changes in telecommunications have impacted text message marketing services. Carrier initiatives to improve communication and make sure spam is limited has changed the way a text message marketing platform is utilized. You may recognize business phone numbers, short code text messages, or toll-free, but how do you know which to use for mobile SMS marketing?
In an effort to help our customers and those using a text message marketing platform, we want to easily show the difference between the three types of numbers, benefits and challenges to each, and give clear use cases so that you can determine which is best for your company's communication strategy. 
Short Code Text Messaging
Short code texting is one of the first ways brands started to use mobile SMS marketing. Short code messaging may include five- or six-digit numbers used from a text messaging platform. 
Benefits to short code texting include:
Easy to send promotions and offers
Best for automated notifications 
Can send more messages faster than any other type of number
Challenges to short code SMS include: 
Lack of personalization 
They are very expensive to set up and maintain
Getting started can take 6-12 weeks
Short code texting looks like this: 
Short code text: Sign up for bill reminders. Text BILLS to 85558.
Response: BILLS
Shortcode automated response: You have been subscribed to receive bill reminders from Lights On Inc.
Toll-free Text Messaging
Toll-free SMS includes seeing a number that comes from an 800 variation. Toll-free texting is most commonly used for transactional messaging such as account-related alerts, notifications, and customer care messaging.
Benefits to toll-free SMS include: 
Cost effective 
Can send at a faster rate than a local long code
Can turn an 800 phone number already in use for voice to enable text
Challenges to toll-free texting include: 
Lacks brand visibility
Limited photo and video support
Toll-free texting looks like this: 
1-888-4929: The Shoppers customer portal will undergo maintenance between 1-4AM EST Monday, September 14. You will not be able to log in during that time. Thank you.
Long Code Texting 
A long code number will look similar to a regular, local business phone number and include 10 digits. These numbers can be used for both voice and text messaging and is most commonly used areas like business, recruiting, human resources and education. 
Benefits to local long code texting include: 
Brand awareness and credibility 
Can respond to text messages and carry on a two-way conversation
More personal form of communication 
Challenges to using local long code texting include: 
Limits to how many contacts you can send
Carriers monitor and regulate
Longer number may be harder to remember or risk user error when giving out
Long code texting looks like this: 
423-252-9820: Hi, Sally! We are recruiting for a travel nurse in the midwest. Are you interested in applying? I have time to talk tomorrow between 1-4pm. Thanks, Lauren.
Sally: Yes, I'd like to apply. We can talk at 2pm – thanks!
Keeping SMS Marketing Spam Free
No matter which number you use, the telecommunications industry has taken steps to make sure deliverability occurs and that text message marketing platforms maintain credibility. What are the regulations for each SMS choice and how does that impact usage?
Short code texting that included sharing codes was eliminated in March 2022. To prevent brands from potentially sharing the same code and causing confusion, the industry moved to dedicated short codes. These codes are more expensive but mean that each brand will have a unique code to share with its audience, and avoid what you can see in the example below. This process can take 6-12 weeks to get started.
10DLC was completed this year — change which required companies who use text message marketing services to register their brand and their campaigns. This impacted local long-code 10-digit phone numbers.  The process typically takes a few days to complete and brands can renew automatically so users don't need to manually complete after the initial registration. 
This year, carriers are looking to toll-free SMS in order to expand the verification process and opt customers into receiving mobile SMS marketing. An end user will have to add their opt-in policy and a screenshot of how and where they collect the opt-in. One of the biggest differences from 10DLC is that toll-free verification requires a clear and concise opt-in policy. This process typically takes 2-3 days but during a time when all users are trying to verify, it can take up to two weeks. 
How to use SMS Across a Company
With so many different ways to text, a text message marketing platform allows every business unit to implement what makes sense for their audience. One of the best ways to be successful with text message marketing services is to adopt SMS across the entire company. This can be a challenge for enterprises where every business unit may have different priorities and audiences. An SMS marketing platform can easily be used to achieve results and provide effective communication.
Here's an example of how a company can use text messaging and different numbers:
Human resources is hiring for multiple engineering roles within the company. The recruiter, Jill, knows many of the candidates and frequently sends communication when a matching job fits a candidate profile.  Jill integrates the text message platform with their applicant tracking system (ATS) and can easily send text messages to the right candidates. Because candidates know Jill and the company, Jill uses a local long code number that is recognizable and allows her to reach a limited number of select candidates. She is also able to manage who responds and schedules interviews easily with SMS. 
Marketing is doing a mass push in the company to subscribe for an upcoming holiday giveaway where every week a new prize will be given out. In order to be eligible, users must opt into receiving text messages from the company. This will go out to a large number of people and requires scheduled, automated text messages to confirm entry and then recur every week. Marketing uses a dedicated short code to subscribe people and quickly start their campaign. 
Customer support wants to notify all current customers about hour changes. They do not want to enable responses but do have to reach a wide audience in a cost effective way. They send the one time message via a toll-free SMS that is the same as their customer service phone number customers use to call. With the text-enabled option, customers will recognize the number but it will cost less and they will get the information they need without needing to reply. 
The entire company uses the same text message marketing platform, but with different numbers to reach the right audiences. This system allows them to communicate in a cost effective and personal way that makes sense for their respective audiences. 
Outline of differences, features and requirements
Phew! It can be hectic to keep track of all the differences in SMS mobile marketing and changes carriers are making in the industry. Here's a quick cheat sheet to help you easily spot the differences and features to help you decide which number(s) are right for you and your company.
| | | | |
| --- | --- | --- | --- |
| | Long code | Short code | Toll-free |
| Digits | 10 numbers | 5-6 numbers | 8XX numbers |
| Use Case | Personalized, 1:1, recruiting | Marketing, high volume | Notifications, alerts, mass customer service  |
| Option to voice calls | Yes | No | Yes |
| Personalization  | Yes | No | No |
| Cost | $ | $$$ | $$ |
| Regulation  | 10DLC registration. Process can take a few days and you can automate renewals to stay compliant.   | Approval from multiple carriers needed. Can take 6-12 weeks to set up and is leased not purchased.  | Verification and proof of opt-in process necessary. Can take up to two weeks during busy seasons.  |
The TextUs team has been working with customers to register their brands with 10DLC, educate on the updated toll-free verification process, and know when and how to stay compliant with short code SMS. If you have any questions on when to use which text message, contact us today! Our goal is to build a text message marketing platform that lets users engage at higher rates, assure text messages are delivered, and stay compliant with changing industry standards.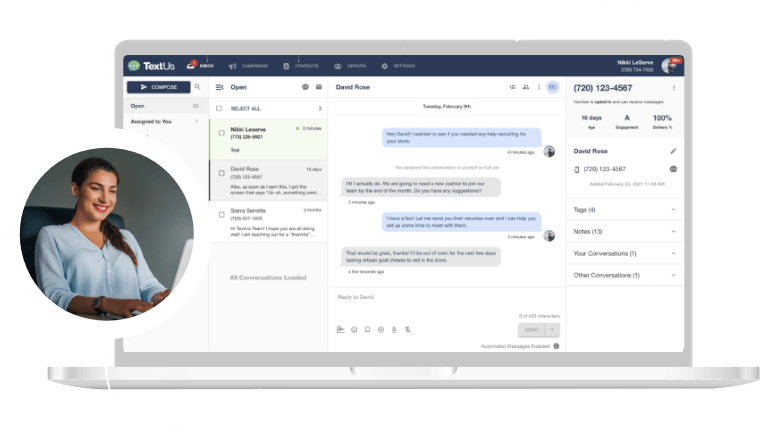 Get a TextUs Demo
Learn how thousands of businesses use TextUs everyday to communicate in real-time.