ZipWhip Announces End of Life
Here's Why Zipwhip Customers are Moving to TextUs
When Twilio announced that Zipwhip would no longer have functionality after 2023, customers wondered how and where they would be able to communicate with their contacts.
We have already helped hundreds of former Zipwhip customers migrate to TextUs so they can continue building their relationships via text. If you are still thinking about your options and where to go after Zipwhip, there are a few considerations when researching platforms.
What Are Your Communication Needs?
It's important to consider what your needs are from a communication standpoint. While you still have access to Zipwhip until the end of the year, there will be no updates or new features.
Features are a key component to deciding which type of tech works best for your needs. One of the top questions to consider is your overall goal for texting – if you are you looking for better engagement and responses from your contacts, TextUs may be a great fit for you. We are more than just a communication tool, we help you engage with your audience. Here are some other features to to consider:
Do you want:
To quickly add contacts and compose messages?
The option to create messages with voice dictation?
Multiple team members to have access to the same number or do you want the option for a department number as well as individual ones?
To schedule multiple campaigns at once?
Unlimited group contact size?
A full sync with your ATS/CRM?
The ability to search?
To segment contacts?
Customizable contact properties?
Once you think about these questions, you will also want to consider the importance of brand recognition and the trustworthiness of text messaging. 10DLC keeps bad players out of the game and limits spam sent from text messages.
TextUs has worked with our customers to register their brands and campaigns so that they can continue to send messages without delay or as spam. You will want to have the confidence that the platform you choose will bring credibility to your brand.
Migrate your phone number and data with confidence
TextUs has the same familiarity you may have experienced with Zipwhip — Chrome Extension, web app, and a mobile app. You will still have access to a texting platform no matter your device preference.
The TextUs Chrome Extension includes both a popout for a full user experience or a slideout feature that allows you to quickly send messages and add contacts. You can also receive real-time notifications so you stay on top of your messages.
The TextUs mobile app mirrors your native texting app. The inbox works and looks like what you are used to. You can easily search and filter your conversations from the app. Just like with the Chrome Extension and your personal phone, you will also receive notifications if desired.
Texting platforms can give you the same usability that you are already familiar with but with multiple ways of texting – web, mobile, or extensions – without disrupting your workflow. You also will build brand reputation with your customers and keep your personal information safe. It also increases collaboration with your colleagues so you are communicating effectively with contacts.
How TextUs differs from Zipwhip
Knowing the migration from Zipwhip will include some familiarities can be comforting – but what about the new enhancements you can enjoy?
TextUs integrations allow you to seamlessly work within your other tech stacks and text with ease. The TextUs SMS API is a RESTful API that allows your company to integrate your TextUs messages and contacts with your CRM or any other tool. The majority of functionality within our web application is accessible via the API, so the integration possibilities are endless.
Our advanced analytics let you measure success of your campaigns, find out which messages have the highest response rates, and understand which contacts or audiences are your most engaged. Not only can you send and see messages in real-time, but you can also see real-time analytics reporting.
TextUs customer experience and support ranks high among our customers! Whether it is bringing them on the user experience journey to help plan our product roadmap, handling special requests, or the implementation process – our customers have found the support and experience easy.
Migration can be tough. You have to gather all of your information and think about your needs, but having a helpful CX team can make the transition simple and painless!
The Las Vegas Aviators use TextUs data analytics to better reach their ticket holders. Read about how the team made the transition from Zipwhip to TextUs and how they plan to fill their stadium seats.
If you are thinking about which platform is next for you after Zipwhip, contact us today.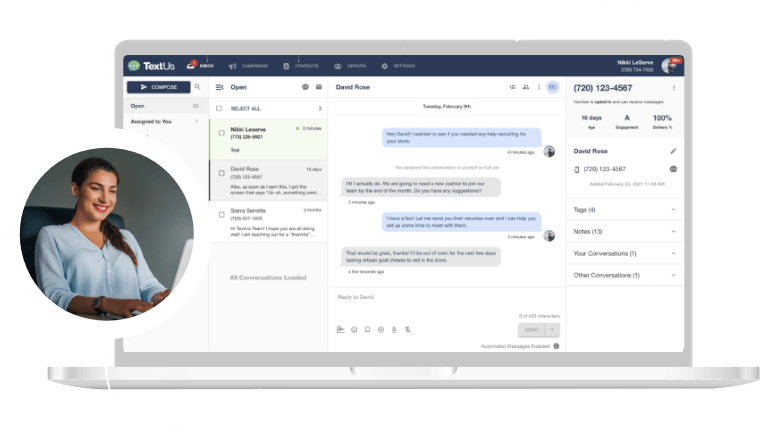 Get a TextUs Demo
Learn how thousands of businesses use TextUs everyday to communicate in real-time.