How to Use a Conversational Approach to Email and Text Messaging to Boost Your Response Rates
If you've been following along at home, you already know that text messaging is great for getting responses — especially compared to using phone or email on their own. But, over the years, we've discovered that one of the greatest untapped powers of text messaging is that it also makes your other channels more effective.
This is what makes business text messaging an integral part of a conversational communication strategy. You can use text messaging, live-chat, and other real-time forms of communication to make your traditional channels work harder for you.
And in this post, we'll take a look at how you can use a quick text message to make your email outreach more effective — and to hear back from your audience faster.
Send a quick text 5-10 minutes after you send an email.
There are many who say that email is going the way of the voicemail. They are sounding the death knell for the email inbox. In talking about Gen Z communicators, Inc notes, "They text so fast the words spill out of their brains like a digital avalanche. It's crazy to watch them communicate, and to notice how little they bother with email. It's not fast enough."
To make email fast enough to engage your audience, show them that you understand their on-demand expectations. When you need to send an email, here's how text can help:
After you send an email, follow up 5-10 minutes later with a quick text. Here are some examples:
Jerry, just making sure you received my email about the new State of Staffing Report. You can download it here: tinyurl.com/SHSOS2019 – Tom
Lynn, did you have a chance to read my email about our fall conference? You can register here: tinyurl.com/SHL2019 – Bill
Addison, just emailed about a possible meeting – does next Wed or Thurs work for you? – Haley
If you are automating your email outreach, you can also automate your follow-up text message as well.
Invite your audience to text you back instead of calling.
Another way to make email more effective is to build a connection between a conventional email and the mobile experience through text. Traditionally, you would end an email by inviting your contact to email or call you back. In a world that is moving as quickly as ours, asking for an email reply or a phone call is a pretty steep ask. It requires the kind of time and effort that, in effect, represents a commitment that your audience might not be ready to make.
Inviting your audience to text their reply to your email shows that you're mindful of their time and have set out to make life as easy for them as possible.
Here's some language you might use in your emails to get prospects to text you back:
Feel free to shoot me a text back if that's easier.
Hit reply or call or text me back at 303-442-3223.
Place your "Text Us" call to action in your email signature.
You may have noticed something new in that last message: if you click on the phone number above, you'll be immediately taken to your messaging platform. These links make it that much easier for your contacts to text you directly from your email outreach.
You can take this one step further by including a "Text Us" call to action directly in your email signature. That way, every email you send out will include an additional text touchpoint. If your audience can email you back, they can click on a link in your signature and text you back in just a few seconds.
Looking for more on how to use text messaging to boost your response rates? Check out our article on nurturing leads with text messaging.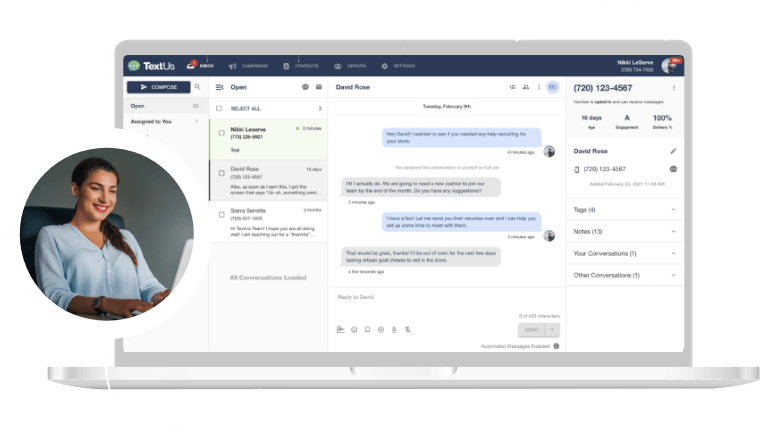 Get a TextUs Demo
Learn how thousands of businesses use TextUs everyday to communicate in real-time.