How to use an SMS URL shortener
Sending links in your text messages can increase engagement and provide resources to your contacts. But you should use caution when using a URL shortener for SMS.  Third-party service (like bitly or tinyurl ) short links may get blocked by providers and long URLs may get flagged as spam if they contain too many special characters. This results in lower deliverability of your messages that contain these types of URLs.
Because short links don't show the pathway easily, phishers and scammers use them for fraudulent activity. Because of this, carriers have started to mark short links as spam because it fits the pattern of a phisher. Your contacts also could be suspicious of the link and not click on it, preventing important information from getting to them. One solution is to take a short link and check it for the full URL. This takes time, and if you're using a free third-party URL shortener for text messages, you are likely already taking time copying/pasting links and switching between platforms to use them. Adding another step by going to yet another site to check a link is not productive. 
Two of the best tactics for using an SMS URL shortener are by sending custom, branded links that are obvious to your contacts or by using a built-in link shortener within your text messaging platform that will provide you a secure and easy way of sending links.
Benefits of a built-in URL shortener for text messages
One of the top reasons for implementing SMS for business communications is that it helps save you time and is convenient for your contacts. Text messaging sees higher read and response rates than emails and is preferred to phone calls. With both phone calls and emails prone to spam, the SMS industry has taken steps to keep business texting spam-free and safe. The benefits of a built-in URL shortener for text messages include: 
Increased message deliverability
A built-in SMS URL shortener allows you to easily add provider-trusted short URLs that significantly improve deliverability over that of third-party URL shortener for SMS.
Make lengthy URLs easier to read
A built-in URL shortener for text messages improves the readability of your links, increases click through rates, and makes links easier for your contacts to reshare while reducing character counts. 
Stay consistent across your organization
Providing a built-in SMS url shortener across the platform means everyone in your organization can use the same short links within their text message communications to build greater trust with your customers, prospects, and candidates. 
TextUs now offers a built-in SMS URL shortener across the TextUs platform, allowing teams to easily add URL shortener for SMS to conversational messages, campaigns, and text message templates. Having a built-in URL shortener for text messages means you can quickly add shortened links to any text message to easily share calendar scheduling, job applications, or surveys with your contacts. The best part? A built-in SMS URL shortener means your team will benefit from increased deliverability of your messages when compared to third-party URL shorteners for SMS that may get flagged or blocked. 
How to use a built-in URL shortener for SMS
A built-in URL shortener for text messages can be used in different industries to enhance engagement with candidates, customers, students, employees, and prospects.
Recruiting and Talent Acquisition SMS URL Shortener
You can communicate with candidates by sending a short link to your calendar or scheduling platform to keep interviews and meetings fluid. You can also send applications or job openings from your website with a short link. Once a candidate is onboarded, send surveys with short links to evaluate the recruiting process for future candidates.
Sales and Marketing URL Shortener for SMS
Engage with prospects and customers by sending short links to calendar and scheduling platforms for demos or sales calls. You can also text customers a short link to complete purchases on your website. By implementing UTM tags, you can attribute web traffic to SMS and evaluate how traffic is flowing and from where users find you. Enhance your marketing by including short links to exclusive promotional details that are longer than a typical text or photo. After a purchase, send a short link survey to find out how the shopping and sales experience was for the customer.
Higher Education URL Shortener for Text Messages
Reach prospective students by sending short links to important information on your site about applying and campus life. You can even include a short link to a video of campus in your text message outreach. Encourage current students to register for classes with a short link. Keep new students informed by sending short links to important orientation information and schedules. Engage with the college or university community by incorporating short links to sign up for activities, events, and continue to use it for alumni to welcome them back for homecoming or other alumni events. 
TextUs makes it easier to add an SMS URL shortener when creating any text message on the platform and does not rely on bit.ly links that have a higher chance of getting blocked by providers. TextUs API users will also be able to send shortened links using the API. You can use URL shortener for SMS in your conversational messages and standard campaigns. When you craft keyword responses, templates, auto replies, intro or appended messages, you can include links directly from the TextUs web app. Once created, users can use those links in Chrome extension workflows.  
URL shortener for text messages with TextUs are available to all users. For users who want to customize their links to increase brand awareness, users can upgrade to TextUs Campaigns Pro. In addition to branded links, Campaigns Pro allows users to track link clicks for increased metrics and future campaign planning.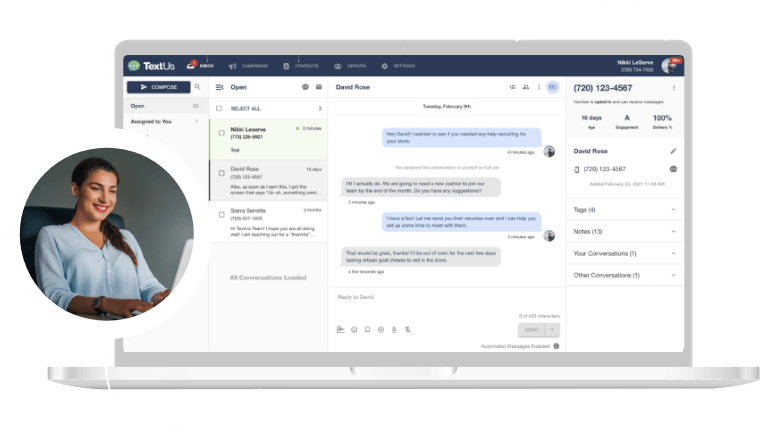 Get a TextUs Demo
Learn how thousands of businesses use TextUs everyday to communicate in real-time.