TextUs Product Launch: Campaigns Pro
Meet our newest product that will take your text campaigns to the next level
As part of our UX process, we value user feedback and bringing our customers along the product roadmap journey.  Our newest release improves our campaign sends so that users can increase engagement with rich media and test the success of campaigns.
Key Campaigns Pro Features
Applying feedback and learning from what works well in our 1:1 or conversational texts, we are launching the following features to our Campaigns Pro upgrade.
1. Support rich media types (images, videos, GIFs, PDFs) in campaigns.
We have seen success when customers use media in certain industries to bolster their engagement with users. If you work in real estate, you can send photos of your listing as part of a campaign and send paperwork as PDFs to interact with buyers all in one place.  You can also check in with your staff and boost morale with a funny GIF or video.
2. Testing for up to three message variations. 
A/B/C testing is included with Pro and includes response rate tracking.  One of the key benefits to texting is that you can track your success in your communication and tweak as needed for greater performance. You can now measure not only the success of your campaigns, but you can also test up to three different campaign messages and flows to see which works best for your business.
3. Incorporate branded links
You can designate your company's subdomain in any links you send to raise your brand awareness and reputation. Building trust with your audience increases the likelihood of engagement, and when someone sees a name they know and trust (your brand!) they are more likely to respond.  An example of a branded link may look like this: yourcompany.textus.biz.
4. Track clicks 
Understand how many clicks one campaign received over another.  As you test between the different messages, understand what is making your users tick and click.  Note: The link tracking will tell you the number of clicks but not the specific clicks by a contact.
Benefits to TextUs Campaigns Pro
Campaigns Pro gives you all of the benefits of using regular campaign features including personalization and scheduling.  You can still target your audience – but now you can try out different photos, personalization, and messaging at the same time to test which brings you the best results.
You can still schedule your campaigns with Campaigns Pro so that you can save time and do the work upfront without sacrificing the quality of your message.  With Campaigns Pro, you now have the resources needed to take your communication and engagement to the next level – whether that is a photo, video, GIF, or PDF.
The greatest benefit to Campaigns Pro is the improvement we have seen with quicker responses and higher conversion rates. Understanding which messages had the most clicks and responses will let you do more of what is successful. We know that texts already have a greater chance of being seen and replied to than email or phone calls, but now you can apply this to your campaigns too!
How do I get TextUs Campaigns Pro?
Campaigns Pro is a premium upgrade to the existing campaigns feature.  This upgrade is per account and not automatic for all accounts.  If you are a current TextUs customer and want to discuss upgrade options, please contact your account manager or request a Campaigns Pro demo.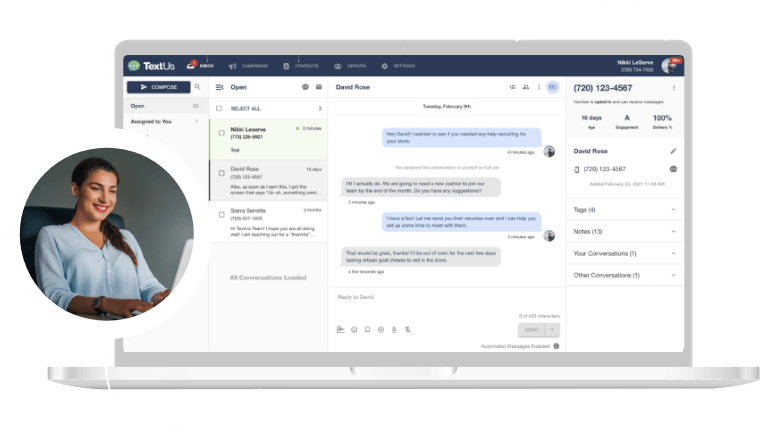 Get a TextUs Demo
Learn how thousands of businesses use TextUs everyday to communicate in real-time.