How to future proof your talent acquisition
No matter which industry you work in, talent acquisition has been busy these past couple of years trying to keep the workforce together while projecting the future market. In turbulent times, TA teams are tasked with big goals of filling positions that may not be necessary in an unpredictable future, and then re-hiring when things look more promising. This constant cycle makes it difficult to analyze gaps and fill them accordingly. HR Executive found that "boomerang employees" are bouncing back to their employers. People who took early retirement or switched jobs are now rethinking that strategy. This boomerang signals the talent cycle and how TA teams can plan for 2023. HR Executive also outlined top priorities including: 
Scenario planning for an economic downturn


Regardless of what happens with the economy, talent acquisition teams have to consider the impact it will have on hiring and understand how your company handled similar situations. Whether it's the recession of 2008-2009 or the beginning of Covid-19, your team should revisit tactics of what worked and didn't. Many companies slash jobs to try and future proof, leaving current employees stressed and on the brink of burnout. TA teams should understand how to move forward not only during economic downturns but also with any recovery — in many industries, teams are still recovering from Covid-19 so that will be an important part of hiring plans. 

Measuring success by results, not hours on the clock


Remote, hybrid, and return-to-office plans

are another central part of planning for talent acquisition teams. Not only with new hires but also current employees who may have become comfortable with working remotely or are eager to get to the office. Candidates will also have a preference for how they will work. Companies that can focus more on the results, regardless of where an employee works, instead of clocking in and out from a 9-5 may be able to recruit at a higher level — this also means recruiting talent that is not limited to geography. Being open to contract or part-time positions may also help you deliver during the times when you need highly skilled people who are looking for flexibility. 

Developing your current workforce


When hiring new talent is unpredictable, one of the best ways (and often overlooked) is to focus on your current talent. By investing in training, professional development, and paying attention to the needs of current employees, you can build teams that are productive, but also likely to stay when economic conditions change. Oftentimes the

cost to train and re-hire for a role

is higher than the investment of pouring into current employees. 
Talent Acquisition Communication 
If talent acquisition is charged with building the best possible teams no matter the industry or economy, which tools can you use to achieve success? Communicating clearly and effectively is one solution to help meet all of the top TA priorities. 
Companies that were able to communicate and understand staff needs have a quicker learning curve and advantage to those who scrambled during Covid-19. One of our customers is a global managed services firm with offices in the US, Canada, and India, serving 60 of the Fortune 100 companies. Keeping a consistent stream of high-quality candidates and the ability to place those candidates quickly when clients need them is a strong requirement — a feat that can be difficult with a national labor shortage and the increased complexity of communicating with candidates based on individual preferences. The customer turned to TextUs to develop a customized communications solution for their needs. The result? An average 40% response rate from candidates and an average 8.5-second response time. The customer uses 150+ texting templates that makes it effortless for them to standardize their regular communication to candidates. 
Companies that embrace technology, not only to recruit, but to communicate with shift scheduling and internal communications have been able to offer flexible solutions to candidates and staff. One of our customers that works in healthcare recruiting noticed that people aren't inclined to talk on the phone anymore — and this is especially true in the healthcare industry, where schedules can vary greatly. Once they started texting candidates to communicate better and faster, they saw open and response rates that they say, "blew email out of the water," and were seeing an average response rate of three times greater than that of a traditional job email. Once the pandemic struck, text messaging became even more critical for them, as jobs can open and close within minutes. Reaching candidates quickly can be the make-or-break moment in getting a nurse to a healthcare facility in need. As many as 80% of their placements start with a text. 
By investing in your current workforce to understand their development — both personally and professionally — companies have opened communication and been able to keep their staff happy and retained. Our customers aren't the only ones who have seen success with the TextUs product — our own HR team uses it to recruit, onboard, and communicate internally. Our team uses it to stay connected during offsites since we are a remote team who can be excited when we all get together in-person and lose track of time and schedules. We also use it as an additional touchpoint during the interview and onboarding processes. When we need to remind candidates of interviews or paperwork and employees of holidays or open enrollment, texting gets better responses —while email is better for longer messages. 
Talent Acquisition Text Message Statistics
While our specific customers each have their own statistics and outcomes from text messaging that are positive, talent acquisition teams in general have seen success when adding SMS as part of their communication strategy. Some notable stats include: 
60% response rate when recruiters use 1:1 conversational text messaging.

67% of candidates respond to messages with 50 characters or less.

70% of candidates respond within the first two hours.  

85% of candidates respond after the first text message.  

Candidates respond the quickest on Thursdays and Fridays.
Talent Acquisition Text Message Examples 
Are you looking for practical text messages to start sending right away and optimize the candidate experience? Here are a few examples of how our customers use text message recruiting throughout different industries. 
Staffing Firm SMS 
Hi John, Erich from RecruiterUSA. I'm reaching out because I wanted to make sure you saw this post on how to improve your resume: tinyurl.com/resume
Gabby – saw on LI that you're looking for a new position. I'm searching for a strong traveler like you with L&D experience. Are you interested?
Hi Libby, just wanted to send a quick reminder that Robotics4U needs your W-9 by Friday.
Are you still interested in remaining active on our contract writers list, Mike? If so, I have a position that might be perfect for you
Sal: Are you still looking for employment and/or relocation? Please respond: 1 – I am currently situated 2 – Currently employed but considering moving 3 – Actively seeking employment
Healthcare Talent Acquisition SMS 
Laiken: We have shifts available next week in Hollywood and West Park. Are you interested in learning more? Please reply "YES" or "NO" 
Brendan: We have an immediate opening in Arkansas.  Offers a 5K sign-on. Are you interested in learning more? Please reply "YES" or "NO" Thanks, Cynthia from MedHire
Sarah: We are hiring LPNs at Northwell Health.  Please respond with your interest: 1 – Night shifts 2 – Day shifts 3 – Not interested at this time 
Benjamin: Urgent need for an LPN or RN tonight at UPMC.  $100 bonus.  Can you be available? Please reply "YES" or "NO" 
Nina: Thank you for applying to the travel nurse position! Do you have geography preferences? Please reply 1 – Northwest 2 – South 3 – Midwest 4 – West. Thanks! Maddie from TravelNursesInc.
Retail Talent Acquisition SMS
Hi, Danielle! Are you looking for extra work during the holidays? We are looking for sales associates in our Columbus location. Pay starts at $19.10/hr plus sign on bonus! Reply "YES" if interested. 
Mel – Text "JOBS" to be alerted when we start our seasonal hiring. 
Looking for a job opportunity with CoffeePlus? We have new roles available. Click the link for opps: tinyurl.com/coffeejobs
Hi Tom – your interview at SuitsPlus is this Wed. at 3pm. Please reply "HIRED" to confirm.
Arlan: You are invited to interview at BeachMart. Please use the link to schedule a time: tinyurl.com/beachmart
Best Drip Sequences for Talent Acquisition
How can you take advantage of communicating effectively with your messages? By using drip campaigns that take your candidates on a journey that is personalized for them and saves time for you! A drip campaign is a set of messages that are sent based on actions and/or timing that you pick to create the personalized journey. 
We recommend some of the following technology platforms for talent acquisition drip campaigns:
Setting up SMS drip campaigns is easy: 
Decide on campaign type

Select recipients 

Create campaign (including timing of sends) 

Review & send 
An example of a text message drip campaign could be: 
Message 1: Hi, Pam. Thanks for joining BestBiz job texts! Here are a few open marketing roles to look into: tinyurl.com/jobs
Message 2: Hi, Pam. We offer 30 days of PTO and remote offices. Read more benefits here: tinyurl.com/benefits 
Message 3: Hi, Pam. Eric from BestBiz again. We were just voted for "happiest employees in Tampa" Read the article here and let me know if you want to join the team! tinyurl.com/tampabiz
Message 4: Hi, Pam. Want to check and see your current job search. Please reply: 1: I'm actively looking for a job 2: I'm just casually searching 3: I am not currently interested in a new role 
You can set up your campaign frequency to be deployed however you want to touch base with Pam. You can also choose to remove the automated messages if Pam takes action. For example, if Pam looks at the benefits link, you can send her a personal 1:1 message to ask if she has questions about the benefits and has interest in a particular role and she won't receive the final two drip messages. 
Want to be the first to know when SMS drip campaigns are launched? Contact us today to learn more and get on the list!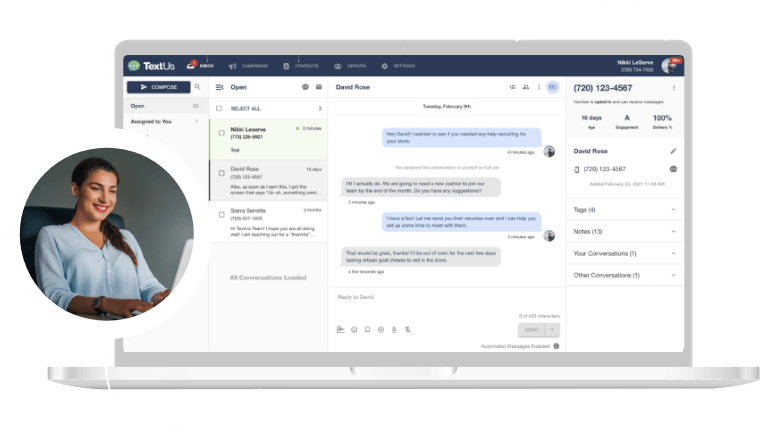 Get a TextUs Demo
Learn how thousands of businesses use TextUs everyday to communicate in real-time.