This isn't your grandfather's manufacturing job
Filling manufacturing jobs is a challenge. According to a Deloitte and the Manufacturing Institute report, about "2.1 million manufacturing jobs are likely to be unfilled by 2030. The study warned that the shortage could damage the U.S. economy by up to $1 trillion." While we rely on many products that come from manufacturing factories, finding people to work in those roles is not as in demand.
The Deloitte and Manufacturing Institute survey shows the discrepancy between younger generations and the baby boomer generation who mostly retired from the manufacturing workforce.  Filing positions with younger employees to replace the retirees can be an obstacle for all industries, but particularly with manufacturing, the expectations and interest in the role appear to have both a skills gap and a lack of interest. 
Some of the common misconceptions for younger employees about manufacturing include a belief that manufacturing jobs are for those who didn't attend college and that the job doesn't allow for flexibility — something Gen Z strongly desires. The manufacturing industry should make upward mobility clear to candidates in order to attract more people. 
According to the executive director of the Manufacturing Institute, "We need to do a better job of talking about what those skilling and upskilling opportunities are…you're not necessarily choosing the thing you want to do forever, but you're choosing where you want to start. And I would be hard-pressed to find another sector that has as much upward mobility as we have in manufacturing."
Being able to clearly communicate the benefits of manufacturing roles will dissipate any concerns or misconceptions about the industry. 
Another collaboration between Deloitte and the Manufacturing Institute found key statistics about the industry including: 
64% percent of consumers surveyed view manufacturing as innovative, up from 39% of respondents five years ago.
Big gains in technology advances in manufacturing, but public awareness lags.
Attracting and retaining a quality workforce is a top focus for 83% of manufacturers surveyed.
Almost 45% of manufacturing executives surveyed have turned down business opportunities due to lack of workers.
Majority of workers still prefer jobs in other sectors, such as retail, services, and technology.
While the public continues to view technology and innovation as strong advancements in manufacturing, candidates do not equate these roles to being for the educated (even though some of these roles even require advanced degrees). Seeing candidates prefer other industries that may offer more flexibility has a big impact on what manufacturing leaders can do to grow the company. If the industry cannot find and retain a quality workforce, the impact on an already projected frail economy could worsen. 
Flexible jobs and communication
Text messaging is a powerful tool that can streamline your manufacturing talent acquisition processes. With the gaps that exist in the manufacturing industry, it's essential to have a reliable and efficient way to communicate with potential hires. Knowing that younger candidates prefer flexibility and jobs that match their lifestyle, text messaging is a prime way to connect with them. Text messaging lets you communicate with younger candidates on devices they already prefer – Gen Z and millennials would much rather text than make a phone call, and email increases the chance of landing in spam or going unread compared to text messages. By showing innovation with SMS and communicating in a convenient manner with candidates, you are setting the tone for the type of work environment they may encounter.
Manufacturing candidates will appreciate how quick and easy the recruiting process is with you. They can receive their interview calendar invites, reminders, and paperwork needed directly on their phones. The best part is that they receive this information at a time that is convenient for both of you. Since Gen Z  is looking for upward mobility, you can demonstrate innovation by sending training materials, videos, and orientation schedules right to their phones. With the different roles in manufacturing ranging from blue-collar to advanced degrees, you can use segmentation to reach the right candidates for the role. 
SMS allows you to keep track of the hiring and onboarding process in an efficient manner, but there is a benefit to using text messaging with employees, too! And with retention a top priority in manufacturing, you can use the hiring process to demonstrate how the company communicates after the offer letter is signed.
Important SMS features to communicate with your manufacturing candidates so they know what to look forward to once the become employees include: 
Receive shift schedules so they can confirm availability with just a few taps on their phone.
Schedule, communicate changes, and confirm on-call shifts in real-time.
Reminders about company events, training opportunities, and other important information for upward mobility.
Receive safety alerts and reminders in real-time for on-the-job safety.
Talent acquisition text message examples
While our specific customers each have their own statistics and outcomes from text messaging that are positive, talent acquisition teams in general have seen success when adding SMS as part of the communication strategy to future proof talent. Some notable stats include: 
Looking for some specific manufacturing talent acquisition SMS examples? Look no further! Here are a few to edit and get you started:
Laura: We have a new job opening for a production supervisor at our Pittsburgh manufacturing facility. Reply APPLY to start the process. 

Hi Mark, you have been selected for an interview for the welder role at our manufacturing facility. Please use the link to select a time for your interview. Congrats! textus.com/interview

Sara, welcome to the team! Watch this short orientation video before your first day on Tuesday! textus.com/training

We value your feedback, Kevin. Please take a few minutes to complete our new hire survey – thank you! textus.com/survey

Grace: Reminder that your interview is on 4/27 at 2pm. Please reply CONFIRM. 
SMS is an essential tool for talent acquisition in the manufacturing industry. It can be used to send job openings, schedule interviews, and send new hire paperwork, all through the convenience of text messaging. Text messaging also allows for a faster response time, which means you can fill open positions and onboard new hires quickly. With SMS, you can keep your employees informed and engaged, which can help improve employee satisfaction and retention.
Ready to fill your manufacturing roles? Contact us to add SMS to your talent acquisition process!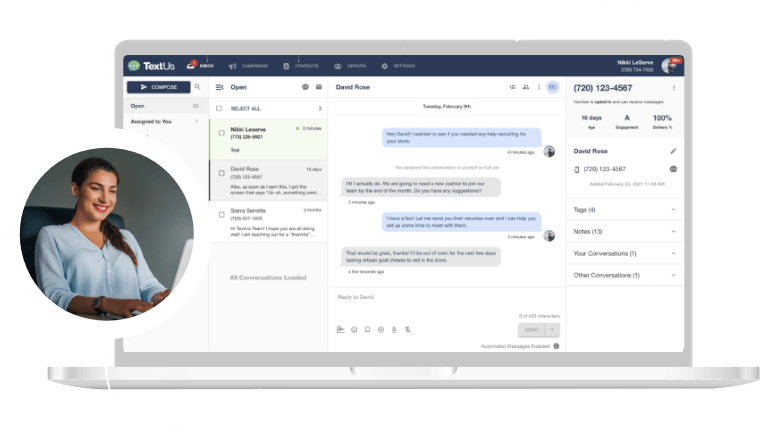 Get a TextUs Demo
Learn how thousands of businesses use TextUs everyday to communicate in real-time.