11 Ways to Increase SMS Deliverability and 11 things to avoid
The goals of your communication efforts are to get a response and engage. You can't do either of those if your message isn't delivered. Text messaging has a 98% read rate. While the business texting industry has taken many steps to verify and keep deliverability and throughput high, you must take action and ownership of the SMS campaigns you create.
Here are 11 ways to increase SMS deliverability
Keep texts short
Our data shows that when text messages are under 150 characters, the response rates are higher. One of the benefits of SMS is that it is a quick and convenient way to reach contacts. No one wants to read a novel in a text message. Business text messages should be shorter and include a direct question or single, call-to-action.
Choose links carefully
Sharing links is a great way to send users a blog post or video to increase engagement. How you share the link is where deliverability is impacted. Long URLs will eat up your character space and look sloppy. Third-party service (like bitly or tinyurl ) short links may get blocked by providers and long URLs may get flagged as spam if they contain too many special characters. Two of the best options for sharing links are to either use a built-in URL shortener for text messages directly within your SMS platform or to use branded links that will show your brand name and increase the credibility of the source to your contacts.
Collect user opt-in
One of the biggest reasons users unsubscribe from receiving text messages is that they don't recall ever signing up to receive that communication. To avoid this and keep your deliverability rates high, you first and foremost need to make sure that contacts are choosing to receive messages from you. This will prevent your messages and brand from getting blocked or marked as spam.
Personalize conversations
Our data shows that conversational text messages average a 67% response rate. That's close to twenty percent more than the average response rate! By personalizing your SMS and showing your brand personality with your tone of voice, emojis, and GIFs, you can build more relationships that will increase your sales, marketing, and recruiting efforts. No one wants to hear from a robocall or text message.
Leverage automation
There is a difference between using automation to simplify workflows and increase efficiency without turning into a robo call or text message. You can negate manual tasks that eat up your time by including automation SMS tactics such as keywords or text message drip campaigns. These efforts will not only increase your engagement with contacts but they require less time on your part while still providing a personalized experience.
Consider file size
While sending rich media or MMS such photos can be a positive way to increase engagement and create a personalized experience, you should be mindful of the data used to send a file. The file size limit for MMS is 300-500 KB. The smaller file size, the faster deliverability. Because JPEGs use less data, they may be preferred for deliverability. If you are sending bulk MMS messages as part of a marketing campaign, most consumers will not notice the difference between a JPEG/PNG in their text message.
Know your audience
There is a time and place to use both mass text messaging and also segment your groups so that you can deliver quality campaigns to the right people. Good content doesn't matter if it's not delivered to the right audience. You should know at what stage a contact is and what type of message you are delivering, so you can choose between a mass text and segmented campaign.
Analyze metrics
Like with other marketing tools, you want to measure the effectiveness of every SMS campaign you send. By A/B testing your text messages, you will be able to determine which version leaves the maximum impact and drives business metrics. In business texting, this will drive better engagement and assure you are delivering the best message possible.
Get toll-free verification
If you are using a toll-free number, you will want to make sure it's verified. You will see a higher deliverability rate if you are using a marketing use case. You will also see less false positives on deliverability. For example, some providers will say a text has been sent but in reality it hasn't. If your toll-free number isn't verified, you could see a total blockage of your text messages.
Register with 10DLC
One of the biggest carrier driven guidelines is to register with 10DLC. 10DLC builds and maintains trust between businesses and consumers by establishing routes and validity for sending messages. It rewards companies who know their consumers and provides wanted content to them. 10DLC creates application-to-person (A2P) routes that are dedicated solely to business-to-consumer traffic, making for more trusted messaging, less spam, and better deliverability.
Use text quality indicator
Finally, you always want to make sure that you proofread your text message. Even though it's short form content, you still don't want to look unprofessional since it is business texting. Personalized and conversational doesn't mean lax. It's a huge bonus if your text messaging platform has a built-in text message quality indicator that can tell you how your message sounds and gives recommendations so that you can deliver the best possible message!
For more SMS best practices, sign up for our newsletter or contact us today.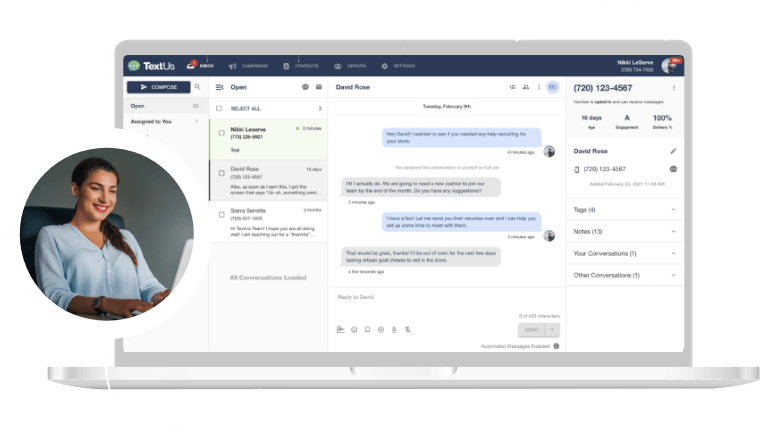 Get a TextUs Demo
Learn how thousands of businesses use TextUs everyday to communicate in real-time.