State of Healthcare: Strategies for 2022
Technology moves fast but organizations– especially in healthcare– are slow to adopt. The healthcare industry has been moving non-stop since the start of the pandemic. Between buyouts and furloughs paired with an ebb and flow of patients, hospital administrators are trying to retain a workforce while providing care and adjusting to regulations. This was a challenge in 2021 and will likely continue into 2022.
According to the Bureau of Labor Statistics, nationwide hospital employment has dropped by nearly 94,000 people since February 2020, with about 8,000 of those workers disappearing from August to September of 2021.  Unit turnover has increased to 30% up from 18% prior to the pandemic, while overtime pay and the cost of contract workers will likely cost hospitals an extra $24B for clinical labor in 2021.
A poll among 1,000 healthcare workers found:
18% have quit their jobs during the COVID-19 pandemic
12% have been laid off
31% who have kept their jobs have considered leaving
79% said the national worker shortage has affected them and their place of work
Knowing these labor shortages will be a challenge, what can health systems do to prepare and sustain their workforce? There are three defining factors that will drive the healthcare industry.  How systems navigate and build strategies around these factors will determine your 2022.
Clinical resilience amid burnout
Burnout is always a factor in healthcare.  Systems are currently building in more flexibility and mental health awareness for their employees.  Staff at all levels of healthcare are feeling the increased stress and tension.  This environment has healthcare professionals looking for jobs outside of the industry or for alternative healthcare organizations or roles like travel nursing.
If you are able to create a plan for the short term you can scale from there as growth and stability pick back up. Employee sentiment is fragile right now and patient demand changes drastically that planning for the long-term seems more harmful.
"Healthcare organizations that leverage a lean and efficient model for their post-pandemic staffing plan will have the advantage of being able to flex up when needed without the operational and financial burden."
The shift to value-based care is also trending upwards.  With the value vs. productivity transition in play, the importance of personalization is higher.  Staff want to know they are creating value and being part of the greater good vs. just thinking about numbers and throughput.  Focusing on value may help create the resilience needed to tackle burnout.
TextUs has worked with travel nurse staffing agencies and other health staffing firms to create text campaigns that quickly and efficiently let them hire, train, and deploy clinical staff where they are most needed.  This process and our platform keeps your pool open and ready when needed. Being flexible now will let you flex up when you are ready.
Innovation to reduce burnout
Health systems are embracing technology to fill the void that burnout has created– in staffing, workflows, and clinical settings.  With so many shiny objects in tech to discover and implement,  it is important to find the right platform that will work for your team.
You want technology that will reduce your staff burnout, not add to it.  Sometimes the time it takes to implement and learn new software can be more of a burden than a solution.  When looking for innovative solutions in healthcare, make sure that it is user friendly and has strong customer service and support.
AI and automation are current shiny objects in health tech that are on the rise.  These features can quicken and streamline processes but since the healthcare sector is longing for personalization and customization, you should be cautious of relying solely on machine learning and automation.
The key is to find balance between automation and personalization.  When you find the right mix of streamlining while still providing a personal touch and care that your staff needs, you can help fight the burnout.
The TextUs platform is built to mirror your native personal phone.  Users will recognize the functionality as something familiar and widely used already.  We also have a Chrome Extension and web app to meet our customer needs. This allows our customers to quickly implement and use texting to drive their communications strategy and not impede it.
Building trust in digital transformation
Learning to embrace technology to fuel growth in healthcare will require trust. WIth an industry that has been slow to adopt and then forced to rush into technology, healthcare can have mixed feelings about tech solutions.
For a long time, HIPAA kept tech requirements lengthy and created huge obstacles.  Telemedicine was even a stretch depending on the state regulations that required video or at least one in-person visit to establish a relationship before online visits could occur. Then as soon as the pandemic hit, regulations were lifted and anyone that had FaceTime could talk to a provider.
This drastic change and disruption left a gap between strict regulations and the Wild West. CIOs and champions for tech are still fighting battles to win over implementations and prioritize tech.
"Building trust is the key to sustaining growth, furthering innovation, and attracting talent"
How you evaluate technology and integrate into your workflows will determine how successful and widespread usage is.  Adoption is key to success when implementing technology. The more users you have on the platform, the better the results will be.  Especially with AI, you will have more data to work with and predict better outcomes.
Companies who adopt technology, like our texting platform across their organization, found response rates 10X higher than when working individually. Our customer success team and support is ranked high so that whenever troubleshooting is needed, we are here to help.  With an NPS score higher than the SaaS average, our customers recommend not only our product but our customer experience!
Check out what they are saying below:
"Smooth interface and great customer support!"
"I just want to say thank you because the customer service at TextUs is amazing. Compared to other software vendors of ours … A++ and I have a LOT of different vendors I'm dealing with."
"TextUs has provided our company with excellent customer service and support since the very beginning."
Want to dive right into texting in healthcare? Take a look at our texting templates for healthcare.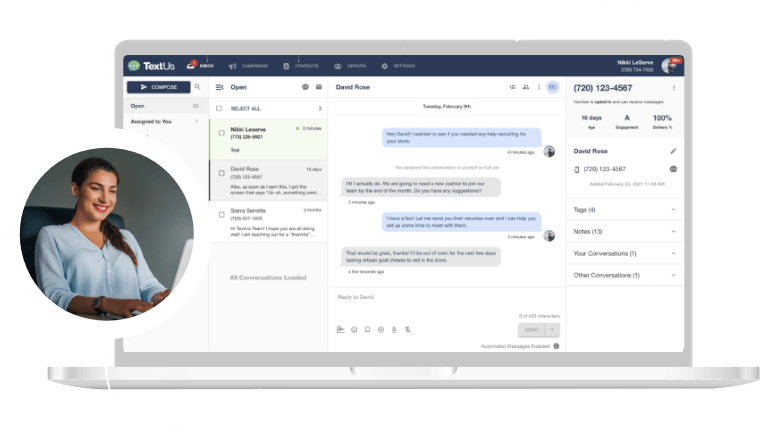 Get a TextUs Demo
Learn how thousands of businesses use TextUs everyday to communicate in real-time.