Healthcare Hiring Trends: Are you prepared to hire the next generation?
Are you prepared to hire the next generation? Of the 4.5 million people who left their jobs in 2021, healthcare had the highest quit rate at 6.4%. Nurses say that burnout has increased and is not slowing down even in 2022. Like many industries, boomer healthcare employees have considered retiring earlier, opening the field to younger applicants. 
The American Nurses Association reported that the demand for RNs is the highest of all industries noting that 500,000 nurses are planning to retire this year leaving a 1.1 million need for nurses. If the demand isn't met, there is a real chance of provider shortage. The younger applicants likely replacing the retirees are looking for a different work environment. 12-hour shifts are common in nursing, but younger nurses want more flexibility.
"Hospitals need to start looking at ways to gear the job more towards what early career nurses want or need."

Kathy Kohnke, SVP of client relations at staffing firms Fastaff and U.S. Nursing
The increased need for flexibility has many nurses ditching their full-time jobs at one healthcare system and becoming a travel nurse for different benefits and opportunities. In an attempt to retain current nurses and meet the needs of the younger demographic, the University of Pittsburgh Medical Center ( UPMC) launched its own travel nurse program where nurses can still be UPMC employees but rotate in various approved states. 
Knowing systems are working hard to recruit and retain their workforce, here are some of the top trends that may drive decisions in healthcare hiring.
1. Culture and trust will be important
Healthcare employees and candidates are looking for a strong culture and employee relations. Hospitals were put to the test during the pandemic and while some were able to manage the health of employees, patients, and budgets, others struggled to define their values and balance during the time of a crisis. 
Having a strong brand identity and culture allows you to recruit and retain healthcare workers. Having trust during times of burnout eases some of the tension –and certainly doesn't add to it. Knowing many employees who have left healthcare cited burnout or lack of connection to their workplace is important because it impacts how you strengthen those relationships. 
With the implementation of 10DLC, business texting is a trusted communication tool. Businesses, including staffing agencies and health systems, can register their brand and start to garner trust and brand awareness with their contacts – employees and candidates. If you are recruiting, you can use text to start the right relationship and show an example of culture and trust. If you are communicating with employees, you can use text for mental health checks or spread joy during tough and long days.
2. Virtual recruiting will rise
While healthcare typically requires in-person interviews and interactions on-the-job, the pandemic made room for virtual recruiting. It was easier to recruit and place people (including providers) while still adhering to regulations for safety. In some roles, this recruitment practice will take priority and continue in 2022. 
Texting has the ability to manage the entire recruitment process for healthcare professionals no matter the role. You can create campaigns and tag contacts based on their job preferences and easily reach them when you have a matching job. You can schedule interviews, sign paperwork, collect feedback from the hiring process, onboard new-hires, and implement training to get employees adapted to the culture.
3. Flexibility and remote work are desirable
As the workforce demographic changes to include younger employees, meeting their needs for flexibility both in their role and communication will be necessary. To fill the potential labor gap and avoid more burdens on an already tense industry, embracing technology to recruit younger healthcare professionals will keep quality candidates in the loop and your pipeline full.
Text lets you communicate with younger candidates on devices they already prefer – GenZ and millennials would much rather text than make a phone call, and email has increased chances of spam or going unread compared to text. By showing innovation with text and communicating in a convenient manner with candidates, you are setting the tone for the type of work environment they may encounter. 
Healthcare is no stranger to innovation. Using technology to treat and diagnose has been a work in progress for many years. But you can also use technology to recruit the right candidates into your roles. The demand for healthcare professionals is great, but may require a shift in how you attract candidates. If you are looking for healthcare hiring texts to start sending today, download our healthcare templates! You will find them segmented by recruitment and employee relations so no matter your healthcare staffing needs, TextUs has you covered! Happy texting!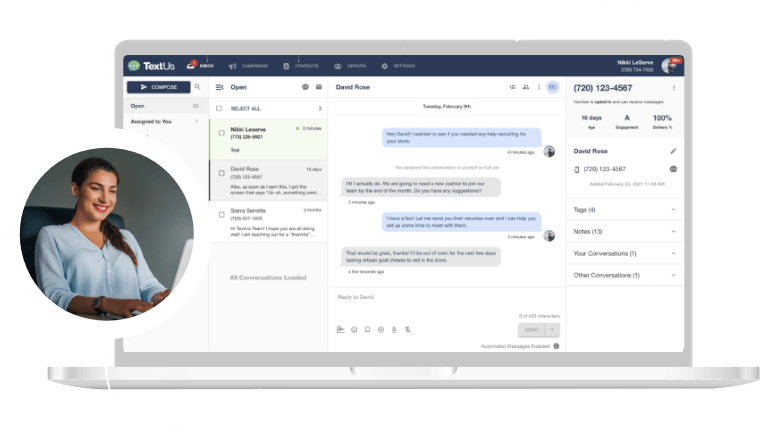 Get a TextUs Demo
Learn how thousands of businesses use TextUs everyday to communicate in real-time.