Healthcare can be hectic: Your communication shouldn't be. Here are 3 questions to pick the right SMS platform.
Healthcare administration can get hectic. Burnout was a real threat even before a pandemic. Healthcare employees were one of the top groups to quit their jobs or change industries in 2021.
Building that labor force back and balancing employee well-being while caring for patients is a top priority for all hospitals now.
Furloughs, layoffs, mergers & acquisitions toppled the burnout employees already felt – causing them to leave the industry or highly consider it.
Communication is at the heart of caring for employees in an industry that cares for all in a fast-paced environment that is constantly changing.
You need to quickly communicate to staff who are not sitting at a desk but saving lives or you might need to recruit for an industry during a healthcare crisis.
Texting is one solution that is convenient and can easily reach both healthcare staff and candidates.
Adopting technology across a healthcare system can be a challenge. Different stakeholders at the decision-making process for buying often have competing priorities causing it to take longer to purchase, implement, and fully embrace health technology.
When looking for an SMS solution for your healthcare organization, there are a few questions to ask in order to find the right fit.
How easy is the product to use?

This should be the first question you ask. Given the decision-making process in healthcare and the pushback that users may display when new tech is introduced means that the solution should help them in their job – not make it more difficult.

With doctors and nurses on their feet most of the day, they don't have time for intense training sessions or to talk on the phone all day. Texting is the easiest way to reach them.

But using your personal SMS line can be complicated.

Finding the software that mimics your personal SMS but lets you talk to staff and candidates with your colleagues in one place is ideal.

An easy-to-use product also lets you adopt across the system. You can eliminate hurdles to pushback when you can demonstrate that the product will let them communicate faster and while on-the-go.

Does the product work in real-time?

Seconds matter in healthcare. You don't have time to waste tracking down candidates when there is an open position and lives are on the line.

With shifts changing and new staff coming in, you want to make sure everyone has the same message and can see where the last staff member left off.

If you were attending to a patient and the chart wasn't updated and you had to wait several hours to see it, how accurate would your rounds be? The same is true of your communication with staff and candidates.

You want to be able to see a record of recent conversations in real-time so you know exactly where things stand and you can increase collaboration instead of duplicating efforts.

Make sure that your platform integrates with other software you use – especially with applicant tracking. The proper integration can drastically reduce your recruitment cycle timeline.

This will let you hire and place candidates quickly to get them in roles where they are needed.

What does campaign management look like?

Being clear and concise is vital in healthcare. Your communication should be targeted to the right people in order to inform or collect responses without hassle.

When you are recruiting for high volume positions in healthcare that require shifts, campaigns will allow you to easily keep track of who is scheduled and find replacements when shifts need last minute coverage.

Make sure you can create campaigns that let you easily send shift reminders, check in on the mental health of your employees, and send out mass notifications or alerts for the hospital.

For recruitment, make sure you can segment your campaigns by position type in order to quickly reach the right people.

A key component to campaign management is asking how often new features are added or what the product roadmap looks like for the platform. You will want options to make the most out of your communication with your system.
Health systems are embracing technology to fill the void that burnout has created– in staffing, workflows, and clinical settings. With so many shiny objects in tech to discover and implement, it is important to find the right platform that will work for your team.
You want technology that will reduce your staff burnout, not add to it. Sometimes the time it takes to implement and learn new software can be more of a burden than a solution.
When looking for innovative solutions in healthcare, make sure that it is user friendly and has strong customer service and support.
Our customers love how TextUs integrates with their ATS tools especially HCS, Workday, and Greenhouse. They see how their communication with staff and candidates has improved because users are responding more and faster with SMS than phone or email.
One of our customers was even featured on Oprah for how they used SMS during the pandemic!
Want to start communicating effectively in your healthcare system? Download our FREE texting templates for administrators and recruiters in healthcare.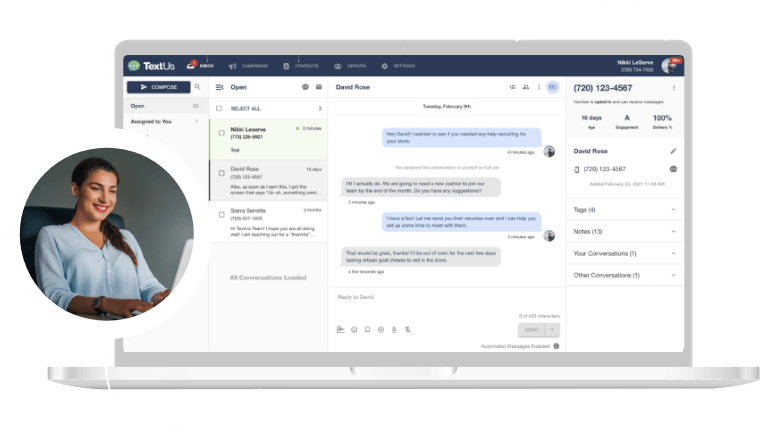 Get a TextUs Demo
Learn how thousands of businesses use TextUs everyday to communicate in real-time.