TextUs Connects Nurses to Jobs and Each Other
Nurses have always saved lives and endured long shifts. COVID-19 saw those shifts never-ending while understanding and protection from the virus itself changed rapidly. Influx of patients and staff shortages made scheduling unpredictable.
Communicating in Real-time During the Pandemic
While regulations and information regarding the virus constantly changed, healthcare professionals were constantly on their feet trying to keep up to date with the latest version.  Texting became more convenient to get the message out quickly so everyone could receive information that would keep them and their patients safe.
TextUs Caught Oprah's Attention  
While texting provided life-saving information delivered to nurses, it also served as a way to share their days with one another.  One lead nurse had her crew sending pictures via TextUs along with a story of their day.  One of the stories went viral and was picked up by Oprah.
The Nurse Connection
TextUs is proud to have many staffing firms dedicated to placing healthcare heroes such as nurses in jobs.  We spend time building our platform so that nurses can spend more time with their patients making the world safer.  
During the pandemic, one travel nurse staffing firm saw tremendous growth in placements with texting.  Texting nurses and getting them placed across the country based on pandemic needs assured that nurses were where they were most needed.  
Another healthcare staffing firm said jobs were opening and closing within minutes during the pandemic and texting helped them communicate 3X faster than email. 
The pandemic emphasized the importance of connection.  Whether communicating life-saving information or finding ways to stay connected while apart, texting helped fill the gap. 
Nurses stepped up a year ago to treat patients and today they still stand tall as they administer COVID vaccines. Today and everyday we celebrate the nurses and medical professionals on the front lines.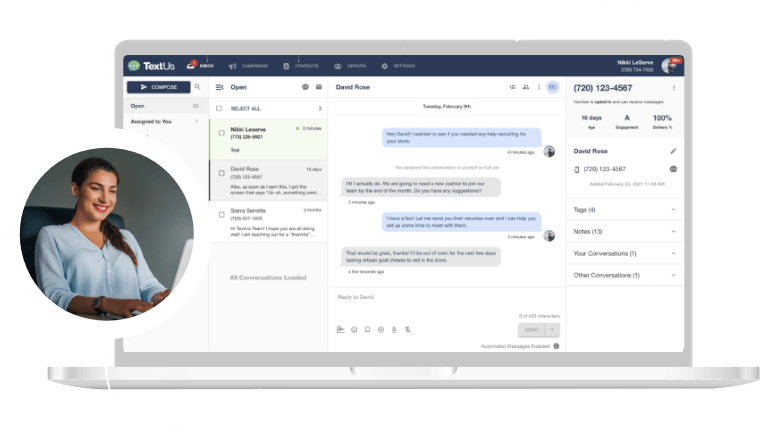 Get a TextUs Demo
Learn how thousands of businesses use TextUs everyday to communicate in real-time.