3 Ways to Maintain the Retail Workforce During an Economic Downturn
The retail hiring market has shifted yet again. Last year, during the holiday season, we saw a strong desire for retailers to bounce back from Covid-19 with increased hiring initiatives. In that candidate market, employers couldn't keep up with their applicants—taking too long to reach out, not making offers fast enough, or losing candidates to more attractive offers from competitors. Employers bumped up incentives and bonuses to attract new hires.
This summer, retailers saw a different trend—while consumers were ready to shop online and in stores, workers were not willing to work. The inconsistent work schedules and stress kept retail employees from applying for jobs or quitting. Employers continued with bonuses and incentives to try and bring out the workforce.
Now the same workers who were particular in demanding how and where they worked, seem desperate for jobs–many of them looking to find seasonal work to help with the rising costs and standard of living.
Expect these stats to impact your retail plans this year: 
The economy is influencing decisions. A Monster.com survey found that "73% of workers polled say they need additional income due to inflation and other economic conditions and that almost half (47%) plan to work at least two jobs this year as a result.
Candidates are actively searching for jobs to meet their financial needs. A report from the Indeed Hiring Lab notes that "at the end of September 2022, the share of seasonal job searches on Indeed was up 33% from the same period in 2021 and 13% over 2020."
Fears of a recession and rising costs are impacting not only employees willing to work, but employers' hesitancy to add more jobs—even seasonal ones. According to Deloitte,

retail sales are projected to increase

4-6% which is much lower than last year which was 15.1%. These projections amid recessions concerns retailers scaling back their seasonal jobs, so they are not caught off guard and with extra expenses.
Bah humbug.
"In recent years, US employers have typically added between 3.5-4 million jobs to their payrolls as they staff up for the holiday season…the holiday outlook is distinctly less cheery this year amid a challenging macroeconomic climate." –Aaron Terrazas, chief economist at Glassdoor
Where are the retail jobs?
According to ZipRecruiter, the most in demand jobs for seasonal workers are:
Class A truck drivers
Delivery drivers
Warehouse associates and workers
While these roles are the most in demand this year, they are statistically lower than usual. Everyone is trying to balance the fear of recession with maintaining the workforce so packages are delivered in time.
What can you do to maintain the workforce during economic downturns?
Build an active candidate pipeline. Things may change rapidly. Your yearly plans for hiring may be halted with economic uncertainty. To counter this, you need to make sure that you have an active pipeline of candidates who are willing to work. This doesn't mean you should only reach out when you're desperate to fill a slot. By effectively reaching out to candidates consistently, you can build engagement so they want to work for you when you have a job. Remember: these are the same candidates who fled jobs for better opportunities or turned down jobs because another company had a better offer.
Focus on retention. Any time there is uncertainty for your hiring plans and budget, the best place to look is your current workforce. Have you been ignoring your employees while you focus on new hires or worried about a recession? While you worry and focus elsewhere, they may jump ship for another opportunity. The time and money it takes to find and train new employees is costly.
Improve employee brand. Candidates have become increasingly particular about the company they work for and its brand. Employees want to work for a company who lives out the values they preach about during the recruiting process. By engaging with customers and employees to create positive experiences, your brand reputation will help you hire during the holiday season and year-round.
Text message recruiting is one tool that delivers (with 98% read rates and an average 48.5% response rate). You can create recruiting text campaigns to maintain consistency in your pipeline and reach out to candidates. You can easily communicate with all staff to confirm schedules and fill last minute gaps in shifts. You can reach out to customers to improve your brand with sales and promotions as well as customer service inquiries.
How do you recruit via text?
Text message recruiting can build candidate pipelines, engage with employees for retention, improve customer service, and increase sales. Here are a few tips for text recruiting.
Use a variety of keywords to trigger automated messages to the right people. When a person texts a keyword, they can automatically be added to a contact group with similar interests based on that keyword, so you can use that in future text recruiting. You can use keywords to send out retail promotions to customers, subscribe candidates to job alerts, and schedule shifts for employees.
Send rich media including photos, videos, and PDFs to engage with your audience. Need to get paperwork signed quickly to place seasonal hires? Send via text and have them complete the action quicker than getting lost in an email. Have a training video that a new hire needs to watch before they can hit the road delivering holiday packages? Send that via a text message platform. Want to keep up staff morale during the busy season? Send photos to spread cheer.
Test your recruiting text messages. With the market shifting back and forth for who gets to call the shots, you want to see which recruiting texts are placing candidates and engaging your contacts. You can also measure and track the links you send to know how contacts are taking action in their journey.
Even though employers are not hiring in record levels, they are keeping contacts engaged. And even though applicants want to work, they still are paying attention to brands and work-life balance. By including branded links from your text message platform, candidates will recognize your company and be more likely to engage.
Recruiting text message examples
One of the benefits to recruiting texts for retail seasonal hiring is that you can create contacts and campaigns for very different groups. You may be hiring for multiple departments, looking to market sales and promotions, tracking shipping statuses, or communicating with current employees. We have templates for all of those to make your holiday retail experience a success!
Text message examples for retail hiring:
Hi, Danielle! Are you looking for extra work during the holidays? We are looking for sales associates in our Columbus location. Pay starts at $19.10/hr plus sign on bonus! Reply "YES" if interested.
Hi, Gary! We have positions open in our warehouse for our new store. Reply "YES" if you'd like to schedule an interview.
Mel – Text "JOBS" to be alerted when we start our seasonal hiring.
Notice the use of keywords in these recruiting texts?! 👀These are great for warehouse and driving positions that are most in demand this year. You can subscribe the right audience to the right job and keep your recruiting pipeline active.
Text message examples for retail employees:
Tom: we have an immediate opening for third shift on Wednesdays. Are you interested? Please reply "YES" or "NO" Thanks!
Sally: We are collecting feedback for our store window theme this year. Please respond with your choice: 1: Snow 2: Gingerbread 3: Nutcracker 4: Sparkly Ornaments
Tracey: Here is the schedule for next month with staff assignments. (attach PDF)
Improve employee communication with keywords, photos, and surveys to keep them engaged and feel a part of the team. Clear communication on schedules will let them feel secure and taking an active role in holiday events will make them feel a part of the team— even if they are only with you for the season.
Text message examples for retail marketing and promotions:
Oscar: Want to receive special codes and information about sales and promotions at BooksPlus? Simply reply "TEXTUS" to confirm opt in!
Heather: Special sale for SMS subscribers! Get 20% until 6/10 with the code "TEXTUS"
Larry: The Yeti cooler you wanted is back in stock! Reply "BUY" to easily complete your purchase.
With retail sales projected to be lower than last year as consumers fear a recession, sales and promotions will be more popular and welcomed than ever before. Use keywords to subscribe customers to receive deals and even complete their purchases.
Text message examples for retail logistics and shipping:
Yuri: A new shipment will be delivered today at 7am at dock 4. Please make sure staff will be there to unload. Thank you!
Sam: Customer requested that order 39023 be delivered to the Walgreens on 2 Spruce St. Please confirm receipt.
Hi Lauren! Thank you for your Posh Boutique order! Your item has shipped and the expected delivery date is 4/18. Here is your tracking link tinyurl.com/tracking
Package delivery is always one of the most important parts of retail—and this year with the focus of hiring in the warehouse and drivers who deliver, communicating to drivers and warehouse associates will be important. Reach them where they are – on their phones!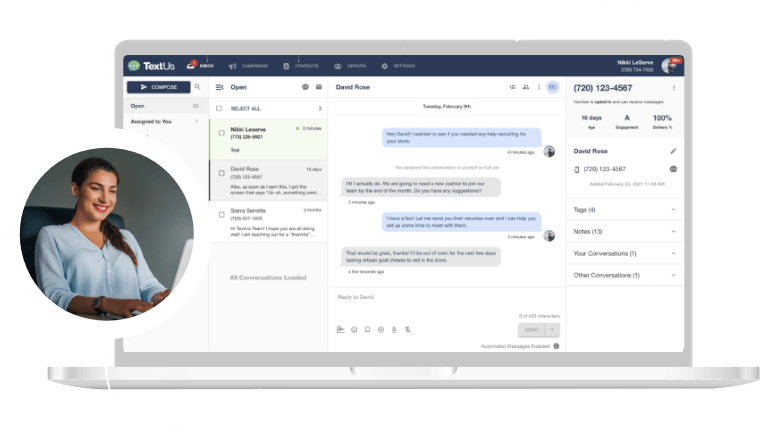 Get a TextUs Demo
Learn how thousands of businesses use TextUs everyday to communicate in real-time.