Is unlimited texting really a thing?
GR8 2 C U. This isn't an eye chart—it's probably how you sent a text message when SMS first came out. Back then unlimited texting was all the rage — a prime luxury that meant you could send as many text messages as you wanted. It was the equivalent of having your own landline at home so that you didn't have to get a busy signal when calling. These days, some generations don't even understand what a landline is, so why are we still marketing unlimited texting? 
With advancements in smartphones and technology, you typically don't have to worry about how many text messages you send or how many characters are in a message. You likely won't get charged and most carriers stitch text messages together so you don't even realize how many characters you've sent. You don't get broken-up texts if you run out of characters mid-word. You can send documents, animations, and links that scrape images when texted. We've come a long way, but unlimited texting seems to still be a thing. 
From a time when you couldn't be on the internet and on your landline without multiple phone lines that were dedicated to just the internet to now having wi-fi on your phone, unlimited data usage is more of a calculation than unlimited texting usage. We tend to think about unlimited texting as a consumer product offering, but what about unlimited SMS for business texting?
Unlimited Business SMS
Bulk SMS for business is a common way for enterprises to reach target customers, employees, candidates, and prospects. While carriers may consider blasting too many messages at one time as spam for personal use, the business texting community has taken many steps to assure the industry is spam-free and offers deliverability. The differences between personal texting and business texting apply to unlimited SMS because a carrier may enforce a fair use policy which caps how many and what kind of messages can be sent, so "unlimited" is not necessarily true. Carriers may package other offers or features together to make up for personal texts sent. Most people are not sending billions of text messages a year — but SMS platforms and enterprise companies are and they have a direct need to reach a mass of contacts at once in order to make workflows easier. 
Unlimited business SMS can be confused with mass text messaging, which is a way you can share alerts with employees, give announcements, receive feedback from surveys, send reminders, and offer promos or sales. Mass texting is a great way to follow-up to your email lists when you don't receive responses. With bulk SMS for business, you can reach thousands of contacts and your outreach can be as targeted and personalized as individual text messages. You can use a mass texting service to reach your entire contact list but they'll feel like they are getting a message meant just for them. It's also spam-free with high deliverability and response rates. 
Unlimited SMS may come with some strings attached or not be viable for business needs. Various business texting platforms may have limits with how many contacts you can reach or how many campaigns you can run at one time. So while you may be promised "unlimited texting" it may be no different than texting from your personal phone to your friends. Businesses have different use cases and audiences to reach. Unlimited business SMS may not be as important for your business compared to features such as segmented contacts and campaigns or unlimited keywords and contacts.
Mass Texting Service 
If you shouldn't use a personal phone for business purposes and the myth of unlimited SMS for business use exists, what should you do instead? When you look for unlimited business SMS options, you should start with knowing the difference between which number to use. You can use a 10-digit long code that is similar to personal mobile numbers and used for personalization; a toll-free number that is good for notifications, alerts, and mass customer service; or a dedicated short code that works for high volume mass marketing campaigns. 
Generally, you are paying for your unlimited text messaging in some format with a fixed fee rather than a per character limit. Most mobile carriers have a fee to send messages through their networks. This impacts how a mass texting service markets their products, features, and platforms. Some of the ways a mass texting service may price its product and service include: 
Monthly subscription fee 
A monthly subscription fee may come with or without a contract for a set amount of months. This could be a set, monthly fee or it could depend on usage based on the mass texting service. 
Per message fee
A per message fee is typically a pay-as-you-go service. There may be easier stop times to cancel a service but you may have more limitations to features and how many contacts and campaigns you can send. 
Platform fee 
A platform fee is sometimes given as a one-time fee or calculated into a monthly fee for use of the platform. This may be in addition to other fees, so you should ask your mass texting service how this is included, if at all. 
User fee 
Not all mass texting services include unlimited users. A user is different from contacts. If you are an enterprise company, you may have multiple users on an account. Check to see if users are included, how many, and the price for additional users. 
Tiered options 
A mass texting service may have different plans since software companies are feature rich. These plans allow businesses to pick the features that are best for them without having to pay extra for features they may not need. 
While no mass texting service may have "real" unlimited texting, you should explore which features are included in a plan. Some features that may be included or come with a cost with a mass texting service include: 
Contact size: are there limits to how many contacts you can send in each message? 

Users: do you have to pay for additional users on an account?  

Campaigns: can you send multiple campaigns at the same time?  

Rich media: can you send things like photos, documents, videos, links? 

Keywords: can you have unlimited keywords to use automation for ease of use?  

API: does the platform have an API to make it easy to connect with your tech stack? 

Support and training: do you have to pay for support and training?  
A fixed rate lets you budget and know which constraints to stay within for that price point. If you have a good idea of how many contacts and campaigns you will send, this option will work for you if you find a mass texting service that can accommodate your needs. If you are a small business, you may be able to pay as you go with more flexibility and less commitment. Beware of promises when searching for bulk SMS for business. The best thing you can do is make sure you get what you pay for and it lets you communicate easier with better engagement. .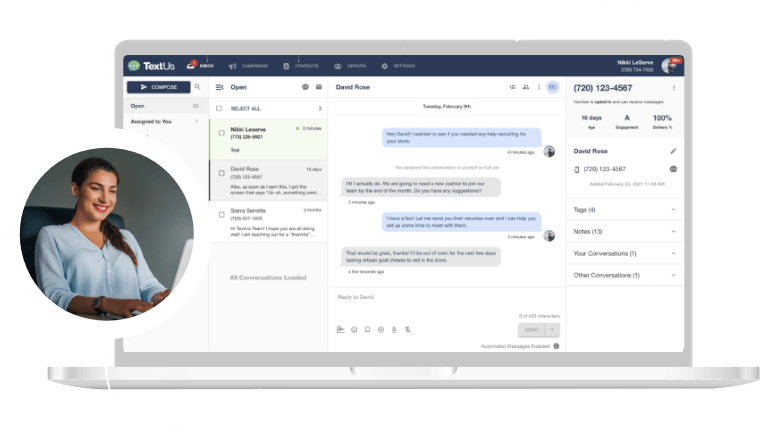 Get a TextUs Demo
Learn how thousands of businesses use TextUs everyday to communicate in real-time.