Do you know TextRecruit alternatives?
Finding the right text message solution for your company is important. With so many different options, you should do the research and consider your top priorities and find the right SMS platform to meet your business needs. TextRecruit competitors offer a variety of services for candidate and employee communications. TextUs is one company that provides not only the tech solution but also the support needed to reach your candidates.
What tech acquisitions mean for you
Any time a tech company is acquired or merges with a larger company, there are pros and cons. On one hand, you may be getting a broader offering of services. On the other hand, you may not require or want to pay for all of the bells and whistles.
TextRecruit was acquired by iCIMS in 2018 and offers services for candidate and employee engagement that leverages text, chat, and AI to optimize the hiring funnel. It's offered as part of the overall iCIMS talent cloud.
Here are some of the top questions you should ask when looking for a business texting solution—especially one that has been acquired by a larger company.
Features you won't find with TextRecruit
Speaking of features, here are a few that you won't find with TextRecruit. If they are high up on your priority list, make sure you find a better TextRecruit alternative.
Text quality indicator: Do you want your campaign sends to be the best they can be and have a guide before you hit "send"? A built-in text quality indicator when creating campaign messages helps users achieve better deliverability rates.
Adding attachments: Do you want to send attachments and give more than 160 characters? Adding rich media like photos, videos, and PDFs supports the words you send and can increase response rates and engagement.
Incorporated brand links: Do you want to build your brand credibility and make sure your contacts see your text messages? If you're using a third party link shortener instead of having it built directly into your SMS platform, it could get blocked by mobile carriers.
A/B testing: Do you want to measure the success of your campaign messages at the same time? With A/B testing you can track which messages and flows work best so you do more of what works and don't waste time.
SMS API: Do you want to connect easily to other software tools? TextUs offers a RESTful API that allows companies to integrate TextUs messages and contacts with your CRM or any other tool.
Is there a downside to AI and automation?
Automation and AI have the ability to make our lives and processes easier. Chatbots have become common on every website and within the recruiting industry—TextRecruit can pre-screen candidates with them. But what if your customers and candidates want to talk to real support and not a robot? In fact, studies show that "74% of consumers prefer talking to a real person than a bot."
Automation is great for access, but does the texting software offer a "hot" transfer that connects in real-time to a real human once a conversation starts? Building AI takes time. It's a learned process to be able to work at full capacity and function properly to mimic human behavior. There's nothing worse than asking a bot a question about your application status and getting a watered down answer that is not specific or unique to you.
We have seen customers do better when they provide a mix of automation and 1:1 touch points with their contacts. Especially within the staffing and recruiting industry, we see a more robust response time and rate when personalized communication is offered. The staffing industry response rate is 34.7% which is lower than other industries, but staffing is only incorporating conversational texts half of the time versus other industries that are having conversational messages 70% of the time over automation.
The type of message you send impacts your response rate. Conversational texting gets three times more response rates than automation.
If you look at the diagram above, staffing does better than other industries when conversational text is implemented. The staffing industry is close to 60% where others are around 50%. Automated texts typically cap out at a 20% response rate no matter the industry.
If you start with automation, make sure you move to a real person texting to establish an engaging conversation. Try to shoot for more than 60% of your texts to be conversational to optimize engagement.
You don't want to sacrifice quality when you start to send automated campaigns.
TextUs does include automation in its features and on the product roadmap. This year we launched Keywords and plan to invest more in 2023. But the questions you should ask for your business texting needs are: "Do we want a communication mix or just pure automation?" and will only focusing on AI and lack of customer support affect your bottom line?
Feature Comparison: TextRecruit Alternatives
| | | |
| --- | --- | --- |
| | | |
| Platform Products | | |
| Web app | | |
| Mobile app | | |
| Chrome extension | | |
| User Features | | |
| 1:1 messaging | | |
| Mass texting | | |
| Scheduled messages | | |
| Templates | | |
| Message personalization | | |
| Opt-in status | | |
| Opt-outs | | |
| Contact import | | |
| Auto responses | | |
| Text quality indicator | | |
| Contact segmentation | | |
| Add attachments  | | |
| Campaigns | | |
| A/B testing tools  | | |
| Branded link shortening | | |
| Link tracking | | |
| Keywords | | |
| Automated sequences | Coming soon | |
| Webchat | | |
| AI-driven responses | | |
| Admin Features | | |
| Analytics | | |
| SSO Support | | |
| Data encryption | | |
| SMS API | | |
| CRM / ATS integrations | | Limited to iCIMS |
| 10DLC registration  | | |
| 3rd-party penetration testing | | |
| Customer Resources | | |
| Onboarding assistance | | |
| Technical support | | |
| Help center | | |
The staffing industry is leveling out now from the pandemic. You have seen a flux in not hiring, to hiring when candidates were demanding, to now a more balanced approach in recruiting for both sides. Implementing SMS recruiting to your strategy will let you communicate more effectively—but make sure you choose the right SMS platform for your business goals. The end of the year is a great time to evaluate your tools and plan goals.
If you're looking for TextRecruit alternatives, ask if your candidates want a personalized experience with easy-to-use communication tools and friendly support when you need it. If we check your boxes of priorities, contact us today!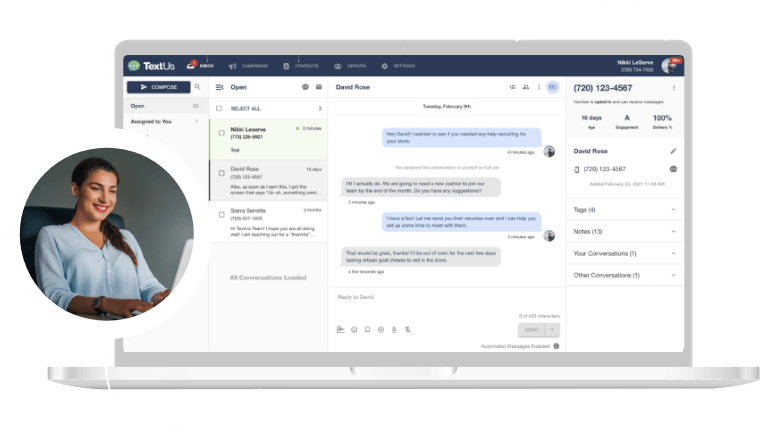 Get a TextUs Demo
Learn how thousands of businesses use TextUs everyday to communicate in real-time.